Here we go, here we go, here we go (again)
16 June 2018, 20:50 | Updated: 16 June 2018, 21:00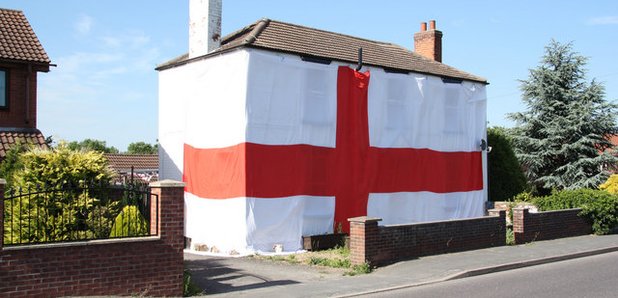 It's that time again, when the nation lines up behind our boys and fails to dampen their expectations that this time we're going to go all the way.
Previous experience tells us that this will not come to pass. Knowledge of the ability possessed of the Germans or the Brazilians counts for nothing.
The new manager knows his stuff and Kane, Alli, Rashford, Vardy et al are all top players, right up 'till their first disappointing performance when they will instantly morph into donkeys, dopes, has-beens and never-weres.
In the period up to the start of the World Cup, the lack of expectation was palpable. Unconcern was in the air.
Now it's begun, the emotions take over, the nation demands that the lads will do their duty, the beers are bought and the flags are out.
Except they aren't. Not the flags anyway – against council rules, you see.
Taxi drivers in Barrow-in-Furness have been told they could be punished by the council's licensing committee for displaying England flags on their cars.
To be fair, this also applies to other nation's flags but that was lost on one cabbie who said it was political correctness gone mad.
In truth, I don't know if anyone has actually said that, but it's a fair bet.
Graham Barker is Barrow Borough Council's Public Protection Manager, a position I am not making up, and he said the flags were banned because: 'We don't want taxis with clip-on flags or internal flags. It's not allowed. It may well distract drivers of other vehicles.'
He's right, but then they could also be distracted by those beads and crosses and car fresheners and other assorted nick-nacks that people hang off their rear-view mirrors.
Roadside adverts that look like giant TV screens, constantly changing, they're quite distracting…that's their purpose.
The radio is distracting too, especially when a talk-show host such as myself says something stupid that causes the driver to shout at their dashboard.
A car's passengers can be detrimental to concentration, as can wasps and totally hot babes of all three sexes on the footpath.
Ogling causes accidents.
Fortunately, there are no hot babes in Barrow-in-Furness, or so I have heard.
There are footie fans, though, and many would appreciate the opportunity to visibly take part in the nation's imminent disappointment by displaying this country's emblem.
The National Private Hire Association spokesperson said that the only way for drivers to get around a ban would be to take the council to court.
But really, what's the point, we won't be in it come the quarter finals. Legal proceedings seem like so much effort.
The NPHA person explained their opposition to the ban by saying that 'The public aren't going to stand in the middle of the road and get knocked down.'
Unfortunately, that's not true, they do – they walk into the road gawping at their phones, or they walk in front of traffic and assume that if they are tough, that traffic will stop for them…but a 2 ton car driven by a wimp usually beats a doughy human pedestrian with an attitude.
This is lost on them 'till they are flung through the air into a bus stop by an apologetic driver.
The flag ruling is not restricted to just Barrow - the Royal Mail banned its 125,000 walking, cycling and van delivery workers from displaying flags and stickers to support England for health and safety reasons.
Bosses claimed the flags and stickers could blow off and become hazards.
Is it that, or are we still somewhat embarrassed by the England flag?
We are alone in the world as people who have given up ownership of our own national emblem because some ultra-right-wingers once used it.
We seem to have said, well, that's not fit for polite society anymore and gifted the flag of the nation to extremists.
The Japanese wouldn't let that happen and neither would Australia, Iceland, Portugal or Peru.
And yet we share one great similarity with all those countries.
They aren't going to get to the quarter finals either.