Keep on keeping on
16 September 2017, 20:45 | Updated: 16 September 2017, 20:47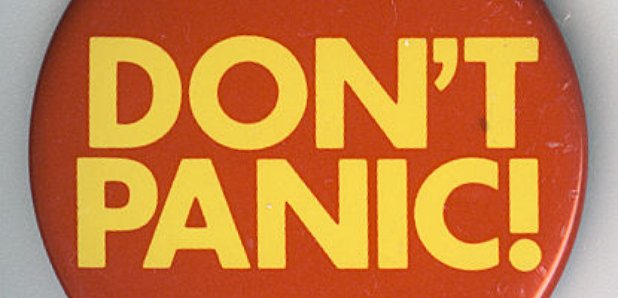 As usual when there is a terrorist attack, politicians form a disorderly queue to go on television to tell us to remain calm.
There cannot be a much more alarming sight than people with looks of grave concern telling us that there is nothing to worry about.
The London Mayor Sadiq Khan said that 'we have got to be calm'.
Boris Johnson the Foreign Secretary said that Londoners should 'keep calm and go about their normal lives'.
Prime Minister Theresa May said that we should remain 'strong and stable'. No she didn't. I made that last one up.
The PM actually said that the threat level would not change in reaction to the attack in Parsons Green, of that she was absolutely certain.
She said this just moments before the threat level was raised to its most alarming category.
It went from 'Oh no' to 'PANIC!'
Presumably she was distracted by having to criticise President Donald Trump for his tweets about the incident, while taking care to appear as though she was not criticising him, so as not to make him grumpy and sad.
What she meant to say was 'keep calm and carry on'.
Well, here is the news: we do not need to be told that. We have 'Keep calm and carry on' coffee mugs and T-shirts to remind us of that.
Keeping calm and carrying on is what defines us as British people - stiff upper lip, don't make a fuss and all that.
It is as meaningless a thing to say as 'all of our thoughts and prayers are with the victims'.
No they aren't. Which politician that has ever said that actually kneels down with their palms pressed together and beseeches God to take care of various strangers that they have never met?
It is one of those nonsense things that people in the public eye mutter because they think it is expected of them, and they can't think of anything else to say.
They also urge us to get on with our lives otherwise the terrorists will have won.
What else are we going to do, abandon everyone we know and shelter up a damp hill in Wales?
Are they worried that we might give up our jobs to stay indoors all day where it is safe?
A thousand people die every year falling down their stairs. We would be safer out in the streets of Baghdad.
We have no option but to carry on, unless we are so rich that money means nothing to us.
If we gave up our lives, how would we pay for our frothy coffee fix and our Sky TV?
Like it or not, we are stuck travelling the tube and the bus and congregating where other people are because if we didn't we wouldn't be able to afford the roof over our heads and we wouldn't be able to go to the football or the theatre or the shops.
Keeping calm and carrying on is our default position. It would be even if we had get to work by picking our way over the smouldering ruins of a North Korean missile attack.
At moments like this, politicians seem locked in a bout of competitive empathising. They feel the need to rush to the nearest camera to assure us that they are in charge and if we put our faith in them, we have nothing to worry about.
Unfortunately, the government's reaction often looks like they are trying to prevent the attack that has just happened.
Since the Shoe Bomber, we all have to take our footwear off to board a plane, since the bridge attacks in London they have erected bollards to stop vehicles mounting the pavement.
All this means is that the would-be attacker uses exploding underwear, or drives over the bridge to mount the pavement on the other side.
The PM announced that extra armed police and army personnel would be patrolling the streets this weekend but as we have one of the only police forces in the world that are not routinely armed, come Monday we will return to being protected by coppers with whistles.
Or, more accurately, no coppers at all.
Apparently, police and MI5 are running 500 investigations involving 3,000 individuals at any one time, while also keeping tabs on 20,000 former 'subjects of interest' all while operating on a budget that has had more cuts than a butcher's window.
Which probably goes some way to explaining why the police won't come to your house if you are being burgled even when you have the assailants on video and have their licence plate number and their passports and a signed confession.
The press will not be interested in covering your break-in, so the politicians will not be interested in addressing it on TV.
You will just have to decide to keep calm and carry on all by yourself.