The A-Z of 2016 full and final list
7 January 2017, 20:38 | Updated: 7 January 2017, 20:50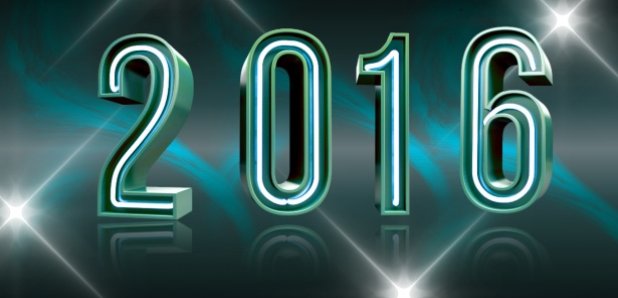 This is the full and final list with all late additions.
There will doubtless be people and events we did not think of. If you can think of any omissions and errors, award yourself a sense of smug self-satisfaction.
Let's hope 2017 is better for us all.
A
Died:
AA Gill
Muhammad Ali
Mose Allison - musician
Jean Alexander - actor, Hilda Ogden
Edward Albee - playwright
Joe Alaskey - voice of Bugs Bunny etc after Mel Blanc
Alexis Arquette - actor
Caroline Aherne
Sylvia Anderson - voice of Thunderbirds' Lady Penelope
Ken Adam - production designer Doctor Strangelove, 007 etc
Colonel Abrams - singer
Dalian Atkinson - footballer
Coral Atkins - actor
Signe Anderson - singer Jefferson Airplane
Eric Avebury - founder of Parliamentary Human Rights Group
Richard Adams - author, Watership Down
The Alexandrov Russian Army Song and Dance Ensemble
Article 50
Sam Allardyce, hired/sacked/hired
Anti-semitism
David Attenborough's Planet Earth 2
Mike Ashley
American elections
Alt. Right
Anti-establishment
Aleppo
(Osborne's) Academy schools plan
Adidas withdraws IAAF sponsorship - doping
Anis Amri - Berlin attack
Austerity
Apple iPhone7
Apple refuses to unlock terrorist's phone
Anti-intellectualism
Argos bought by Sainsburys
The Archers domestic abuse plotline
Automatic check-out at Amazon supermarkets
Artificial intelligence
Alsation strangler, Michael Heseltine - did he, didn't he?
Assassination attempt on Nigel Farage, was it, wasn't it?
Alcohol consumption - women catch up with men
Bashar al-Assad
Aid budget
Huma Abedin - Clinton's campaigner
Julian Assange + Wikileaks
Air Force One replacement cancelled
Academy Awards race row
Ankara assassination of Russian ambassador
Austin Reed sold
Arctic oil and gas drilling banned by Obama
Nicola Adams - first British boxer to retain Olympic title, Rio
Ant and Dec - OBE
Lily Allen apologises for Calais Jungle
Admiral Kuznetsov - Russian aircraft carrier in English Channel
Ageing population
American Apparel closes
Asthma medicine required by surprising number of elite athletes
Austrian electors reject far right
Abstract Expressionists at the Royal Academy
B
Died:
David Bowie
John Berry - Beastie Boys
Pete Burns - singer
Prince Buster - singer
Ken Berrie - voice of Postman Pat
Black - singer
Eric Bauersfeld - actor Star Wars "It's a trap"
Kenny Baker - actor R2-D2
Jimmy Bain - rocker, Dio etc
BHS
Lionel Blue - rabbi, broadcaster
Richard Bradford - actor, Man in a Suitcase
Bhumibol Adulyadej - King of Thailand
Boutros Boutros-Ghali
Captain Eric Melrose "Winkle" Brown - flew more types of plane than anyone in history
Pierre Boulez - composer
Anita Brookner - writer, Hotel du Lac
David Bowie Is - V&A's most popular exhibition ever
Boris' blunders
Bake Off
"Battle of the TV Hunks" - tabloid frenzy over Poldark and Victoria
Breibart News
Stephen Bannon
Usain Bolt - wins 9th Olympic gold
Ed Balls dances
Berlin terrorist attack
Brussels terrorist attack
Abu Bakr al-Baghdadi - ISIS leader
The Beckham's kids - tabloids' new interest
Buckingham Palace repairs
Brazilian hairdresser v Article 50 - Deir Dos Santos
British Airways Xmas strike cancelled
Brangelina split
Boko Haram - defeated?
Boaty McBoatface
Alec Baldwin's Trump impression
Black Lives Matter
Billy Bush + Trump + bus
Jeb Bush
Tony Blair comeback - will he/won't he?
Sergeant Alexander Blackman, Marine A
Brexit
Clean brexit
Hard v soft Brexit
"Brexit means Brexit" - Therea May
"Brexit means breakfast" - Andrew Davies, Welsh Conservative leader
Bus advert for Brexit
Big Ben repairs
Blue butterfly thrives in UK after near extinction
Back of the queue - Obama on British? US trade deal if Brexit
Boleyn Ground - West Ham move
Brownlee brothers Olympics - help over the line
Barrel bombs on Aleppo
Blackstar - Bowie
Aaron Banks - UKIP, Brexit funder
Birminham prison riots
Beards
Brazil - Olympics
Byron Burger immigration raid
Adam Barrow - Argos to Gambian President-elect
Eric Bristow - sacked from Sky after child abuse comments
Border controls
Birkini
Sepp Blatter
Tony Blackburn - fired/hired
Bono - Woman of the Year
Bottle flipping craze
David Bridges & Alex Lowe's bodies found in Tibet after 16 years
Birther movement - Obama "not born in US"
Bird flu strikes turkey farm at Xmas
Banana Republic shops close
Richard Branson bike crash
Benefits cap
"Breaking Point" - EU leavers' poster
"Britain first" - shouted by Jo Cox's killer
Ken Bone - red sweatered US election debate questioner
Boing stock crash after Trump tweet
"Bigly" - Trump during US election debate
BBC3 moves online
C
Died:
Fidel Castro
Jo Cox
Michael Cimino - director, Deer Hunter etc
Natalie Cole
Leonard Cohen
Ronnie Corbett
Choppers - chimp in PG Tips ad
Johan Cruyff
Phil Chess - Chess records
Dave Cash - DJ
Chapecoense football squad
Charmian Carr - actor, Sound of Music
William Christopher - actor, MASH
Mel C says no to Spice Girls' reunion
David Cameron steps down
Hillary Clinton
"Crooked Hillary"
Jeremy Corbyn re-wins leadership
The cuts (in services)
Cologne New Year sex attacks
Clown craze
Chicago Cubs win World Series
Cuba - US relations "normalised"
Croydon tram crash
Croydon Cat Killer
Chilcot Inquiry
Crystal Meth given to speed up N Korean construction workers
Coup defeated in labour ranks
Cryogenic freezing
Mark Carney - "Britain suffering first lost decade since 1860s"
Carrie Fisher heart attack
Calais Jungle
Carrier bag charge
Randy California's estate v Led Zeppelin - Stairway to Heaven riff
Celebrity injunction re. threesome
Child abuse inquiry
Cycle Superhighways
Phil Collins returns
Conflict of interest - Trump
Jeremy Clarkson
Columbia signs peace deal with Farc
China takes US drone
Child refugees - some not children
Bill Cosby
Pauline Cafferkey - Ebola nurse
Kellyanne Conway - Trump strategist
Conkers could vanish - Horse Chestnut Leaf Miner
Church of the Flying Spaghetti Monster recognised in Netherlands
Chewbacca Mom - 164m views and counting
Climate change
Cheerleading at next Olympics
Cheltenham Festival footballers urinate into glass, throw it on crowd
Cincinnati Zoo - gorilla shot
Dominic Chappell - BHS
David Cameron humming at door to No. 10
Climate change - "Chinese plot": Trump
CRISPR Cas9 - gene editing tool
Cheetahs face extinction
Chernobyl Safe Confinement Arch
Camber Sands drownings
Thomas Coville - sets round-the-world solo sailing record
Caudrilla - fracking plans approved
Rochelle Clarke breaks England rugby caps record
Clean for the Queen
Carrier bags charge
Chinese military bases in South China Sea
David Cameran calls Nigeria and Afghanistan "fantastically" corrupt
Channel 4 racing goes to ITV
D
Died:
Paul Daniels
Tony Dyson - special effects designer of R2-D2 etc
Michael Delligatti - inventor of Big Mac
Dennis Davis - drummer for Bowie
Frank Dickens - cartoonist
Peter Maxwell Davies - conductor/composer
Patty Duke - actor
Jack Davis - cartoonist Mad magazine
Edward Daly - priest, author, iconic Bloody Sunday act
Patty Duke - actor
Drugs in prisons
Drones
Bob Dylan's Nobel Prize
David Davis, Brexiteer
Drownings - 5000+ refugees
Philip Davis, anti-feminist MP appointed to Equalities Commission
Denmark - happiest, again
The Donald
The Ding Dong Tree - Scottish tree of the year
Rodrigo Duterte's killing spree
Didcot power station disaster
Philip Dilley - Chair of Environment Agency quits after 2015 Xmas floods
Simon Danczuk suspended over sexting
"Drain the swamp" - Trump
Deliveroo + minimum wage
Kirk Douglas - 100 years old
Data eavesdropping laws
Driverless cars
The "deplorables" - Clinton on trump supporters
Dyson's £300 hair dryer
Tom Daley - sets record then eliminated at Rio
Delayed discharge from NHS beds
Petra Kvitova - tennis, attacked
Johnny Depp v Amber Heard
Dab dance craze
Dat boi - internet meme
Damn Daniel - internet meme
Bird landing at Bernie Sanders' speech
Diamond batteries from nuclear waste
Dakota pipeline
Dementia epidemic
Diabetes epidemic
Downing Street cats
Dakota Access Pipeline
Drake - 15 weeks at No 1 in charts
E
Died
Keith Emerson - ELP
Umberto Eco - author
Joe Esposito - Elvis' road manager
Egypt Air Flight 804 crash
Ched Evans' court case
England Rugby team success
England Football team failure
Electoral college - US elections
Recep Erdogan
Emailgate - Clinton
Eugenie and Beatrice denied royal protection
Experts - we've "had our fill"
Entryism - Labour, Republicans "infiltrated"
Elephant decline
Recep Erdogan
EU referendum
The Euro
Euro 2016
Earthquakes - many
Ecuadorian Embassy - Assange still in there
Ecuador cuts Assange's internet feed
Elizabeth Line - Crossrail named
Evil Kermit the Frog - internet meme
Jessica Ennis-Hill retires from athletics
Noel Edmunds' motivational phone service for cats
Ebola epidemic officially over
Easter Rising 100th anniversary
"Enemies of the people" - Daily Mail headline on judges in EU case
F
Died
Dario Fo - playwright
Glenn Frey - The Eagles
Frank Finlay - actor
Margaret Forster - author Georgy Girl
Emile Ford - musician
Rob Ford - crack smoking mayor of Toronto
Carrie Fisher
Tenor Fly - singer
Football child abuse
FIFA corruption
Nigel Farage
Five pound note contains animal fat
Mossack Fonseca leak
Fascism
Chris Froome wins Tour de france
Mo Farah - double double gold
Freedom of movement
Fake news
Far right
Facebook - see entry above
Liam Fox - Brexiteer
Foreign aid
Fallujah
Foxconn replaces 60,000 workers with robots
Food banks
Florida nightclub Pulse shooting
Fake bomb at Old Traford
Harrison Ford injury fine $2m
Fishing rights
"Fantasy Island" - UK stance on Brexit
Fracking
FTSE 100 record high on back of plunging pound
Fabric nightclub closes
G
Died:
Dale Griffin - drummer Mott the Hoople
Christina Grimmie - contestant on US TV's The Voice, shot
Vivean Grey - actor Neighbours
Jon Glenn
AA Gill
David Gest - TV producer, once married Liza Minnelli
Randy Van Gelder - jazz recorder
Reg Grundy - TV producer, Neighbours
Zsa Zsa Gabor
Ron Glass - actor, Barney Miller
Zac Goldsmith
The Grand Tour
Gotthard Base Tunnel - world's longest opens
Goldman Sachs' ex staff fill Trump cabinet
Michael Gove v Boris Johnson and experts
Greek debt crisis
Galileo - European GP satellites operational
Ryan Giggs leaves Manchester Utd after 29 years
Gender fluidity
The Garden Bridge
Grammar schools - PMs support
Giraffes face extinction
Philip Green
Gorilla escapes London Zoo
Gig economy
Gravitational waves discovered
Golf at the Olympics
Google tax bill
Global warming
Bob Geldof v Nigel Farage, battle of the boats
GoPro Karma drones fall from sky
Sigmundur Gunnlaugsson - Iceland PM resigns after Panama Papers leak
Ghostbusters - all female reboot
Rudy Giuliani
Gender identities - New York recognises 31 of them
Geda - Chinese monkey predicts US election result & Euro 2016
H
Died:
Norman Hudis - comedy writer first six Carry On films
Barry Howard - actor, Hi-de-Hi!
Robin Hardy - director, Wicker Man
Henry Heimlich - inventor of the maneuver
Zaha Hadid
Merle Haggard
Harambe - gorilla, shot
Michael Herr - war correspondent, Apocalypse Now writer
Hanoi Hannah - Vietnam War radio personality
Florence Henderson - actor, Brady Bunch
Alan Haven - organist, collaborated with John Barry on Bond music
Donald Henderson - physician, small pox eradication
Guy Hamilton - director, Bond, An Inspector Calls
Hiroshima - first sitting US president visit
Heathrow third runway
Hipsters
Hillsborough disaster Inquest
Bernard Hogan-Howe resigns from Met Police
Hard shoulders disappear on motorways
Hate crime increase after Brexit
Hatchimal - most wanted toy this Xmas
Honey G
Hissene Habre - ex president of Chad imprisoned
HS2
Paul Horner - fake news writer says Trump won due to him
Prince Harry + Meghan Markle
Jerry Hall marries Rupert Murdoch
Hinkley Point C nuclear power station
Hacking
Hero of Cologne - New Year sex attacks
Homelessness
Housing crisis
House prices
Hillary
Harriet Harman - longest serving female MP
Philip Hamond - Chancellor
Jeremy Hunt - Health Sec v junior doctors
Tom Hiddleston - 007 speculation
Harlequin ladybird invasion
Hospital parking charges
Holloway Prison closed
Hygge - Danish well-being
Jon Hinkley Jr - Reagan shooter released
Hamilton, the musical v Mike Pence
I
Died:
Commander Ian Inskip - Falklands naval officer
Independent newspaper goes online only
Immigration
ISIS
IVF - 3 parent baby
Iceland the country v Iceland the shop
Iceland the football team v England
Ivanka
"Independence day" - Farage on Brexit vote
iPlayer - TV licence now required
iPhone7
ISIS/ISIL
ISS - International Space Station
Zlatan Ibrahimovich
Investigatory Powers Act
Irish government v EU over Apple tax
IDs to vote
Immigration
Istanbul bombing
Israeli settlements
International Criminal Court abandoned by Russia, S. Africa etc
Italian earthquake
Ireland beat All Blacks in Chicago
Indian currency demonetization
Italian debt crisis
Invictus games
Gianni Infantino - new head of FIFA
Eddie Izzard's fetching pink beret and Question Time
Iran economic sanctions lifted by USA
Internet fraud
Idiocracy - no longer a comedy, now a documentary
Insjon, Sweden - laser wielding sex pigs
i360 - attraction opens in Brighton
Illegal settlements in West Bank
Ben Innes selfie with EgyptAir hijacker
Italian referendum on constitutional reform
Caitlyn Jenner "regrets" sex change
J
Died:
Anthony Jay - writer, Yes Minister
Jim - washing machine salesman - Keith Vaz alter-ego
Junior doctors strike
Diane James - UKIP leader for 18 days
Juno Jupiter fly-by
Anthony Joshua - IBF heavyweight title
Janet Jackson pregnant at 50
Boris Johnson - Bozo of the FO
JD Sports working conditions
Mick Jagger - father at 73
Deveraux Octavian Basil Jagger.
Jeep Cherokee recall after Anton Yelchin death
Gary Johnson - Libertarian Party nominee, US elections
JAM - just about managing
Jean-Claude Juncker
Jingoism
Jihadi Sid - bouncy castle salesman to ISIS recruit
Brian Johnson leaves AC/DC
K
Died:
Frank Kelly - actor, Father Ted
Andrei Karlov - Russian Ambassador to Turkey, shot
Burt Kwouk - actor, Pink Panther
George Kennedy - actor
Paul Kantner - musician, Jefferson Airplane
King's Cross gentrification
Korea - North v South
Kim Jong-un
Kim Kardashian robbed in Paris
Chris King - first UK double hand transplant
Sadiq Khan - London Mayor
Kittenheels - Theresa May's shoes
Kidlington - ordinary English town magnet for Chinese tourists
Kumbuka - London Zoo's escaped gorilla
Jason Kenny - half of "golden couple" at Rio with Laura Trott
Ku Klux Klan - they're back
Kremlin v US elections
Radovan Karadzic - guilty of war crimes
The Khan family v Trump
L
Died:
Harper Lee - author
Carla Lane - writer Liver Birds, Butterflies, Bread
Tom Leppard - world's most tattooed man
Greg Lake - ELP
John D. Loudermilk - singer, wrote Tobacco Road
"Lock her up" Trump rally chant re. Clinton
Leicester City wins Premier League
Leather trousers - Theresa May's £1000 pair
Andrea Leadsome - having children would "make her a better PM" than May
Dougie Lampkin does wheelie round whole of IoM TT track
Llamas sit in at the Tour de France
"Locker room talk"
Ryan Lochte - "robbed" in Rio
Lord Lucan death certificate granted
Matt LeBlanc - Top Gear troubles
Louisiana floods
"Lyin' Ted Cruz"
Leave (EU)
Christine Lagarde - guilty of negligence
Ladybird books reimagined
Gary Lineker's pants
"The Little People" - politicians' concern
Lego store - world's largest opens in London
Leaves ruin train wheels
Lottery price increase/worse winning odds
Lybia
London Bridge Station revamp
Leaks - PM warns leakers...warning leaked
Legal highs
Alex Lowe & David Bridges' bodies found in Tibet after 16 years
Leap second, Dec 31, 2016 23:59:60
Locally sourced food
Land Rover Defender ends production
Leave.EU
Lionheart - Philip Green's yacht
Lynx escapes Dartmoor Zoo
"Lepo" - "what's a Lepo?" top internet search during US eloection debate
M
Died:
Howard Marks - drug dealer, writer, Mr Nice
Ian McCaskill - weatherman
Edgar Mitchell - astronaut
George Martin
George Michael
Scotty Moore - Elvis' guitarist
Gordon Murray - creator Trumpton, Camberwick Green
Garry Marshall - creator Happy Days, director Pretty Woman
Cliff Michelmore - Tv presenter
Michael Massee - actor, Se7en
Nevill Marriner - violinist, conductor
Henry McCullough - musician, Wings
Lonnie Mack - musician
Mannequin challenge
Make America great again
Make Britain great again
Jose Mourinho at Man Utd
Andy Murray wins Wimbledon
Monte dei Paschi - worlds oldest bank crisis
Jose Morinho
Mercury - transit of
Mossack Fonseca leak
Angela Merkel
Meghan Markle + Prince harry
Munich shootings
Theresa May - new PM
Marmitegate
Marzipan pooping pig in Norway
Danielle Muscato - massive Twitter slapdown of Trump
Nicky Morgan v Theresa May's leather trousers
Len Goodman retires from Strictly Come Dancing
Helen Marten - Turner Prize winner
Melania's speech
Thomas Mair - kills Jo Cox
Mosul
Len McCluskey - resigns from Unite
Migrant workers
Marine A
Marks and Spencer close stores
Murdoch Sky bid
Ferdinand Marcos, Philippines ex-president buried (died 1989)
Elon Musk
Madonna's custody battle for son
Merlin - Alton Towers operator fined over roller-coaster crash
Helen Martin wins Turner Prize
"Mainsteam media"
Muirfield golf club v women
James "Mad Dog" Mattis - named US Defence Secretary
Marijuana legalised in many US states
Moscovium - new element named
N
Died:
Marni Nixon - ghost singer, My Fair Lady, West Side Story etc
Michael Nicholson - war corrspondent
Andy Newman - Thunderclap Newman
Richard Neville - writer, edited Oz magazine
Zara Nutley - actor, Mind Your Language
Robert De Niro v Trump - "I'd like to punch him in the face"
The Night Manager - BBC hit
Nobel Prize in Physics - David J.Thouless, F. Duncan M. Haldane, J. Michael Kosterlitz
Nobel Prize for literature - Bob Dylan
Benjamin Netanyahu v John Kerry, Obama, USA, New Zealand, UN etc
Nice terrorist truck attack
Paul Nuttall - UKIP leader
The Night Manager - TV hit
Night Tube
Negative interest ratesmerlin fined
New Day newspaper launches/closes
Nationalism
Nihonium - new element named
Gary Neville - new England manager
O
Died:
Hugh O'Brian - actor, Life and Legend of Wyatt Earp
Barack Obama
Michelle Obama
Oil price
OPEC
Sarah Olney wins Richmond by-election
Opinion polls get it wrong
Ozone hole in Antarctica shrinks
Ore Oduba wins Strictly Come Dancing
Orgreave - battle of - inquiry ruled out
Olympics
Overseas Aid
Ozzy Osbourne's affair
Oscars race row
Oligarchs
Orangutans on endangered list
George Osborne sacked, still highest earning MP
Offshore banking
Obesity
Georgia O'Keeffe at the Tate
Old Labour returns under Corbyn
Oxfam shop refuses donations of any more 50 Shades of Grey
Oganesson - new element named
P
Died:
Rick Parfitt - musician, Status Quo
Arnold Palmer - golfer
Billy Paul - singer
Jimmy Perry - writer, dad's Army
Prince
Cecil Parkinson - politician
Shimon Peres - ex-Israeli President
Jim Prior - politician
Sylvia Peters - continuity announcer
Popular vote - Hillary won but still lost
Tim Peake - UK astronaut
Planet Earth II
Pastafarians - worshippers at Church of the Flying Spaghetti Monster recognised
Panama Papers
Adam Peaty world records at Rio
Paul Pogba world record transfer to Man Utd
Michael Phelps medal haul continues
Pistol and Boo - Johnny Depp's dogs v Australia
Palace of Westminster repairs
Marine Le Pen
Plain cigarette packaging
Oscar Pistorius appeal fails
Pulse nightclub shootings, Florida
Populism
Patriotism
Pfizer fined £84.2m, overcharging NHS
Pneumonia fells Hillary
Postal service 500 years old
Post Office strike
Poundland price increase
Pound falls post referendum
Prison riots
Pokemon Go
Pearl Harbour first visit by a Japanese PM
Poverty in Uk
Mike Pence US VP
Project Fear - EU referendum
Vladimir Putin
Political correctness (gone mad)
Poppy ban - FIFA
Picasso's Portraits at the National Portrait Gallery
Performance enhancing drugs, especially for asthma
Philippine President Duterte
Post-truth, Oxford dictionary word of the year
Pussy - Trump says he grabs them
Pay for play - Clinton accusation
Giant panda no longer endangered
Pension triple-lock scrapped?
Polymer five pound notes
Beatrix Potter 150th anniversary
Pizzagate - fake news story re. paedophile ring
Port Talbot steelworks
Q
Qantas launches direct London - Australia flights
Quantitative easing
Queen's 90th birthday
Queue - UK at the back of for trade deal: Obama
QI - Fry leaves TV show
Quintuplets born in Australia
Quality Street ditch Toffee Deluxe - Xmas ruined
Quinoa - "food" fad
Quid pro quo - Clinto accusation
R
Died:
Debbie Reynolds
Nancy Reagan
Denise Robertson - broadcaster
Wayne Rogers - actor, "Trapper" John, MASH
Alan Rickman
Brian Rix - actor, President of Mencap
Leon Russell - musician
Vera Rubin - astronomer who confirmed dark matter
Dilma Rousseff - Brazil President impeached
Cliff Richard cleared of abuse charges
Russian state sponsored doping and Olympics ban
Russian hacking of US election
Rio 2016
Rosetta spacecraft crashed on comet
Cristiano Ronaldo wins Ballon d'Or
Remainers
"Remoaners"
Neil Rogers (my hero) inducted posthumously into US Radio Hall of Fame
Nico Rosberg wins F1
Refugees
Rupee - 500 and 1000 notes no longer legal tender
Rio
Royal yacht - new one mooted
Republican Party
Richmond by-election
Rough sleeping
Keith Richards "takes over" BBC4
Claudio Ranieri - manager of Leicesr FC triumph
Russian Ultras - football holiganism at Euros
S
Died:
Garry Shandling - writer, comedian, actor - Larry Sanders
Liz Smith - actor, Royle Family
Martin Stone - guitarist, Pink Fairies, Chilli Willi & the Red Hot Peppers etc
Andrew Sachs - actor, Fawlty Towers
Ed "Stewpot" Stewart - DJ, TV presenter
Peter Shafer - playwright, Amadeus, Equus
Robert Stigwood, entrepreneur, music mogul
Dave Swarbrick - musician
Raine Spencer - socialite
Frank Sinatra Jr
Soptlight - Best Picture Oscar
Syria
Patti Smith accepts Dylan's Nobel Prize, is nervous
Saturday Night Live v Trump
Solar roof tiles - Elon Musk
Martin Shkreli - hikes price of life saving drug 5000%
Southern Rail
Staples shops closing
Ed Sheeran cut by sword by Princess Beatrice
School uniform miscreants sent home
Star Trek 50th anniversary
Shelter - 50th anniversary
Slavery still happening in Britain
Standing Rock protests re. Dakota Access Pipeline
Sex Pistols 40th anniversary
Sugar tax
Sanctions - imposed/lifted - Russia, Iran, Cuba etc
Supreme Court nominations, US
Socialism
Battle of the Somme centenary
Bernie Sanders
Snooper's Charter
Maria Sharapova drugs ban
Schools academies
Simpsons' Trump predictions
Sexting
Alec Salmond
Nicola Sturgeon
Sink holes
Nick Skelton - show-jumper, Rio's oldest gold medalist
Owen Smith - challenged Corbyn for Labour leadership
SpaceX plan to colonise Mars
William Shakespeare - 400th anniversary of death
Samsung phones/tablets catch fire
Supermoon - closest since 1948
T
Died:
Rod Temperton - songwriter, Thriller, Boogie Nights etc
Gareth Thomas - actor, Blake's 7
William Trevor - novelist
Donald J Trump
Trump Tower
Trump University
Trump and Taiwan upset China
Trump's tweets
Trump v Vanity Fair
Trump v Alec Baldwin
Trump v etc etc
Tremendous - Trump's favourite word
Top Gear refurb flop
Laura Trott - half of "golden couple" at Rio with Jason Kenny
Dave Lee Travis - court case
Tsai Ing-wen - Taiwan's first woman president
Transexuals
Tesla cars Insane Mode/Ludicrous Mode
Toblerone redesign
Tate Modern Switch House extension opens - residents overlooked
Tiger numbers rise for 1st time in 100 years
Team GB medal haul in Rio
Trousergate - Theresa May's leather trousers
Traingate - Corbyn v Virgin trains
Yamato Tanooka - Japanese boy, 7, abandoned in bear infested woods
Turkish failed coup
Tennessine - newly discovered element
Two handed transplant - Britain's first
Tube trains run all night
Travel chaos
Liz Truss - first female Lord Chancellor
Thistlecrack - star race horse
TTIP
"Talking Britain down"
Trident renewal
£350m a week for the NHS bus advert
"Take back control" - EU leavers' rallying cry
Tata Steel + Port Talbot
Tsukui Yamayuri En care facility attack, Japan
Carlos Tevez - highest paid athlete in world, £615,000 a week
U
Died:
Lukasz Urban - polish driver killed in Berlin lorry attack
Unilever v Tesco
Ukraine wins Eurovision Song Contest
Underground strike
Unions
Uber
UN Report on UK disability rights
UKIP
Underdog - the year of
US elections
"Unpresidented" - Trump tweet
V
Died:
Boby Vee - singer
Peter Vaughan - actor, Porridge, Game of Thrones
Robert Vaughn - actor, Man from Uncle
Abe Vigoda - actor, Godfather
Viola Beach - band and manager
Vanity - Denise Matthews, singer, Prince
Alan Vega - singer, Suicide (the band)
Volkswagen emissions scandal
Virgin Trains v Jeremy Corbyn
Veil - face cover ban in France etc
Vanity Fair v Trump
Vinyl revival - outsells downloads by value
Vote leave
Vote remain
Virtual reality
Keith Vaz, sex scandal
Vote of no confidence in Jeremy Corbyn
Virtue signalling - internet term re. comments that enhance moral superiority
Max Verstappen - youngest ever F1 winner
Video recorders - last known manufacturer stops production
"Vi coactus" - Dianne James signs UKIP leadership papers "under duress"
W
Died:
Gene Wilder
Terry Wogan
Victoria Wood
Papa Wemba - singer
Michael White - producer, Rocky Horror Show, Monty Python etc
Maurice White - Earth Wind and Fire
Duke of Westminster
Alan Williams - Beatles' first manager
Tony Warren - screenwriter, Coronation Street
Andrzej Wajda - film director
Bobby Wellins - musician
Wales' football team reach first semi-final of major tournament
Max Whitlock - first British gymnast to win Olympic gold
Wall - big, beautiful, Mexico paying
Wooden plates in restaurants
Bradley Wiggins retires from cycling
Steven Woolfe - UKIP MEP, altercation with UKIP MEP Mike Hookem
Danny Willett wins Masters golf tournament
John Whittingdale MP+ sex worker = sacked
Steven Woolfe - UKIP leadership contender hospitalised by UKIP MEP
W.H.O. declares Zika outbreak over
"What is the EU" internet search spike after referendum
Wikileaks
Anthony Weiner's emails rock Clinton campaign
Geert Wilders - Dutch politician's hate speech trial
Wallonia v Canada-EU trade deal
Winchester - "best place to live in UK"
"We're here because we're here" Jeremy Deller art project, 100 anniv Battle of Somme
Kanye West
"Whinge-orama" - Boris Johnson on EU referendum debate
X
Xenophobia
Xi Jinping
Y
Died:
Anton Yelchin - actor, Star Trek
Alan Young - Mr Ed etc
The Young Pope - TV series
Yorkshire Ripper moved back to jail
Jimmy Young - DJ, singer
Yahoo confirm they were hacked in 2013/14
Operation Yew Tree
Yazidis persecuted by ISIS
Yemen
Yulin dog meat festival
Z
Died:
Zsa Zsa Gabor
Zaha Hadid
Vilos Zsigmond - cinematographer, Close Encounters, Deer Hunter
Zero hours contracts
Zero interest rates
Zafira cars recalled
Zika virus
Zionism - Ken Livingstone said Hitler supported it
Zack Goldsmith loses Richmond by-election