The A-Z of 2017 The final list in full
3 January 2018, 01:04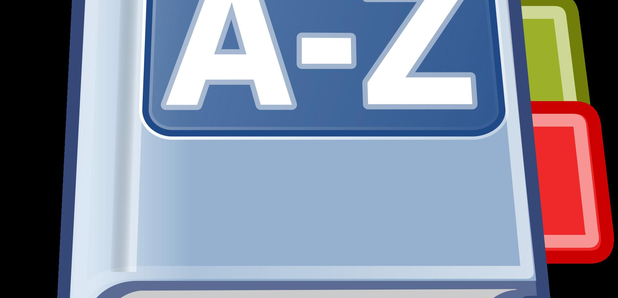 Thanks to everyone that contributed - this is it: your list of the year.
The buzzwords, people and events of the year. Those that pertain to Donald Trump are followed by (T), reflecting his dominance of the news.
A
Died
Gregg Allman, rocker, Allman Brothers Band
Aadvark from Regent's Park Zoo fire
Adam West, actor, Batman
Alessandro Alessandroni, spaghetti western musician
Roger Ailes, Fox News head (T)
Brian Aldiss, author
ABC – last cinema closed
American divorcee to marry British royalty
Austerity (again)
A&E waiting times
Alternative facts (T)
Australia approves same-sex marriage
Jane Austin £10 note
Artificial Intelligence
"Ancient Orange" my name for (T)
Aircraft carrier leaks
Dianne Abbott's arithmetic
Acid attacks
Austria gets a far-right president
Astronomers find half of missing matter in universe
Apple's £1000 phone
Apple's new spaceship campus
Julian Assange
Abortion Act 50th anniversary
Antifa (T)
Alexa
Airlander 10, airship that looks like a giant bottom crashes
Alternative for Germany wins 13% of election vote
Alt-right (T)
Atlas, back flipping robot
Airbags on lampposts, Salzburg smartphone zombies protected
Adele confirms marriage
Affordable housing
America First (T)
Alabama Senate race (T)
Aragog, lookalike spider named after Harry Potter monster
Asthma medication and British cycling
Aung San Suu Kyi, loses shine
Jacinda Ardern wins New Zealand election
Article 50
Aleppo, fall of
Alaska, oil drilling allowed in wildlife refuge (T)
Lord Adonis quits as infrastructure tsar, calls May the voice of UKIP
Asos overtakes M&S as UK's favourite clothing retailer
B
Died
Walter Becker, rocker, Steely Dan
Brucie – Bruce Forsyth, entertainer
Chuck Berry, rock 'n' roller
Rodney Bewes, Likely Lad
Keith Barron, actor
Michael Bond, Paddington Bear author
Ian Brady, Moors murderer
Chuck Barris, Gong Show TV host, CIA assassin (?)
Leon Bernicoff, Goggleboxer
Hywell Bennett, actor
Chester Bennington, rocker, Linkin Park
Roy Barraclough, Coronation Street
Geoffrey Bayldon, Catweazle
Leo Baxendale, cartoonist Bash St Kids
William Peter Blatty, author, Exorcist
Gilbert Baker, artist, rainbow flag
Dee Boyle, rocker, Longpigs
Anthony Booth, actor, Till Death Us Do Part
Rodney Bickerstaffe, trade unionist
Brian Cant, actor, presenter
Brexit
Brexit "decision could be reversed": David Davis
Blackamoor brooch worn by Princess Michael
Brown cows – 10% of Americans think that's where chocolate milk comes from
Boris Becker bankrupt
Breitbart (T)
Steve Bannon (T)
Burnley FC smallest team in Premiership, seventh at Christmas
Big Ben stops chiming
Borough Market terrorist attack
Boeing v Bombardier
Michel Barnier
Britain First
Bitcoin
Balfour Declaration 100th anniversary
Badger cull
Scott Baldwin pets a lion
Bubonic plague in Madagascar
Bank Levy cut
British Airways' computer meltdown
Brenda from Bristol reacts to snap election
Bumpstock for rifles
Richard Branson caught in hurricane
Richard Branson's Virgin Care sues NHS
Banksy's Walled Off Hotel + identity discovered?
Bathmophobia – Trump afraid of stairs (T)
"Boris bus" scrapped
Bee colony collapse disorder
Blade Runner sequel
Blue passport
Blue Planet II
British Airways IT failure
Beyonce has twins
Brazil nut shortage
Kevin de Bruyne, best midfielder in the world?
Brakeless bike crashes
Alec Baldwin spoofs Trump on SNL (T)
Bowling Green massacre, fiction told by Kellyanne Conway defending Muslim travel ban (T)
Berlin NYE "safe zone" for women
Black Sabbath play last gig
Usain Bolt retires
John Bercow, Speaker of the House opposed to Trump parliamentary address (T)
Henry Bolton new leader of UKIP
Jeff Bezos becomes richest person in the world
C
Died
David Cassidy, singer
Keith Chegwin (Cheggers goes pop)
Glen Cambell, singer
Max Clifford, PR
Holger Czukay, rocker, Can
Chris Cornell, rocker, Soundgarden
Larry Coryell, jazzer
Antonio Carluccio, chef
Eugene Cernan, astronaut, last man on Moon to date
Coughing – Theresa May's Conference fiasco
Catalonia independence referendum
Jeremy Corbyn goes to Glastonbury
Cladding on tower blocks
California fires
"Covfefe" (T)
Charlottesville far right rally (T)
Cassini spacecraft crashed into Saturn
Crimewatch axed
Crimes that no longer warrant police response
Peter Capaldi exits Dr Who
Cashless society
Cutbacks
Climate change
Coal free energy day – UK's first since 1880's
"Clean" coal (T)
Cybercrime
Kellyanne Conway (T)
Credit card debt
"Cheesegrater" building sold to Chinese
Cambridge Analytica and Brexit and Trump (T)
Canada 150 years old
Curry button on Indian washing machines
Cadburys replace Fudge bar in selection box
Dany Cotton, first female Commissioner, London Fire Brigade
Chocolate cake, "most beautiful" fed to President Xi while bombing Syria (T)
Nick Clegg Knighthood announced
Curb Your Enthusiasm returns
James Comey, FBI Director fired (T)
Confederate statues and flags (T)
Jeremy Clarkson catches pneumonia
"Coalition of chaos"
China accused of selling oil to N Korea, despite sanctions
Bill Cosby sex assault case ends in mistrial
Cancer diagnosis scanners in supermarket car parks
Curtsey, Meghan Markle
CNN, constant attacks by (T)
Hayden Cross, UK's first pregnant man
Croydon cat killer
Collusion with Russia (T)
Gemma Collins, TOWIE star falls down hole
Vince Cable new leader of Lib Dems
Cornwall flash flood in Coverack
Chlorine washed chicken
D
Died
Fats Domino, rock and roller
JP Donleavy, writer
Jonathan Demme, director
Liz Dawn, Coronation Street
Danielle Darrieux, French actress
Tam Dalyell, politician
Roy Dotrice, actor
Damian Green's computer
Colin Dexter, author, Inspector Morse
Diesel cars
DUP
Dippy the diplodocus goes on tour
Dairy Milk made in Poland
Seb Dance MEP's "He's lying to you" sign re Farage
Dotard – Kim Jon-un's description of Trump (T)
Domestic abuse - Putin decriminalises it Russia
Cressida Dick Met Police's first female Commissioner
Bob Dylan accepts Nobel Prize
Dr David Dao dragged off United flight
Dumoulin couple found after 75 years missing in melting Swiss glacier
Johnny Depp divorce – loses Pistol and Boo
Dreamers (T)
Drumpf, original family name of (T)
Dunkirk, the film
Dr Who, first female
Deep learning, AI
"Dementia Tax"
Princess Di's death 20th anniversary
"Don't let them in" Tory councillor at Grenfell Tower meeting
Drone lands on HMS Queen Elizabeth
Diesel and petrol cars and vans sale to be banned from 2040
Dennis the Menace loses the menace
Dominica devastated by Hurricane Maria
"Dishonest media" (T)
DeepMind's AlphaZero, AI programme becomes best ever chess player
Vin Diesel, highest grossing actor of the year
Dakota Access Pipeline, Trump v native Americans (T)
Driving test changes include following sat nav
Doklam conflict, China-India border standoff
Doping, release of 2011 survey finds 57% of elite athletes admit to it, 2% caught
Daily intelligence briefings, Trump says he doesn't need them because he is smart (T)
E
Died
Ugo Ehiogu, footballer
Bernie Ecclestone out of F1
Edward Enninful, new editor British Vogue
Eastergate: National Trust
Easter eggs in shops before Christmas
Executive Orders (T)
Elizabeth Line trains start running
England wins U-17 World Cup
England wins U-19 European Championship
England wins U-20 World Cup
Evening Standard new editor George Osborne
Euston Station transformed to feed homeless at Xmas
East Sussex coast chemical haze
European Union
Excitonium, new form of matter discovered
"Exit from Brexit"
Exeter schoolboys protest at hot uniform by wearing skirts
EU Banking Authority moves from London to Paris
EU Medicines Agency moves from London to Amsterdam
Earthquakes upsurge as earth rotation slows
Eclipse of the sun, stared at by (T)
Elephant trophy import permits (T)
Megan Ellis, student fills hot water bottle with cold water & waits
"Exquisite", House Speaker Paul Ryan's description of Trump's leadership (T)
Eminem returns, raps against Trump (T)
Elvis, 40th anniversary of death
Equifax admits massive cyber breach
F
Died
Carmen Franco, Duchess, daughter of Franco
Flat-Earthers
Fox entertainment assets sold to Disney
Floyd Mayweather Jr. vs. Conor McGregor, "the Money Fight"
Fox News taken off Sky in UK
Fidget Spinners
Fake news (T)
Far right, rise of
Faraday FF91: fastest electric vehicle 0-60mph in 2.39sec
Aretha Franklin retires
Tim Farron resigns as leader of Lib Dems
Fluffy McFluff Face – rare penguin named in Norfolk sanctuary
Florence speech - Theresa May
Jayda Fransen, Britain First, retweeted by (T)
Felix the Huddersfield Station Cat, media star
Fatberg, biggest ever, 130 tonnes, Whitechapel
Finland's independence from Russia 100th anniversary
Michael Fallon resigns as Defence Secretary
Fracking banned in Scotland
FTSE 100 record high
Colin Firth becomes Italian citizen following Brexit
Fox and Friends appeals to and watched by (T)
Faecal flora cloudburst, what happens when you flush the loo
French election
Mike Flynn resigns (T)
"Fire and fury like the world has never seen" (T)
Mo Farah wins his final track race
Harrison Ford crashes plane again
Chris Froome wins Tour de France
Chris Froome adverse urine test
"F****** moron" Sec of State Rex Tillerson reportedly describes President (T)
Arlene Foster, DUP leader
Fox and Friends, Trump praising show is Trump's favourite (T)
Food banks
FBI, constant attacks by (T)
Funicular, world's steepest opens in Switzerland
Susan J. Fowler, ex-exec's blog reveals toxic culture at UBER
Facebook accused of supporting ethnic cleansing in Myanmar
Facebook accused of publishing child pornography
Facebook accused of publishing content sponsoring terrorism
Facebook shuts down chatbots after they invent own language
Flattery, Whitehouse insiders say it is the way to get Trump's attention (T)
G
Died
Buddy Greco, jazzer
Dick Gregory, comedian
Bob Givens, Bugs Bunny animator
Charlie Gard, subject of court battles
Richard Gordon, surgeon, writer
Stanley Greene, photojournalist
Barry Gibb plays Glastonbury
Garden Bridge scrapped
Kathy Griffin and Trump's severed head (T)
Ariana Grande concert attack
Grenfell Tower fire
Gender neutral
General election
Gravitational waves discovery wins Nobel prize
Barry Gibb at Glastonbury
Sebastian Gorka resigned/fired (T)
Guatemala to move Israeli embassy to Jerusalem (T)
Getlink, new name for Eurotunnel post Brexit
Gold coin, 100kg, stolen from German museaum
Great Repeal Bill
Grammar vigilante corrects mistakes at night in Bristol
Damian Green sacked re. porn found on computer
Philip Green
Greg's sausage roll Jesus
Great Barrier Reef dying/dead
Great British Bake Off moves to C4
Gender identity
Gender neutral language
The Grand Tour, TV
Game of Thrones, TV
Pep Guardiola, Man City manager: special
Guam, Trump promises 10 fold increase in tourism after N Korea nuke threat (T)
Germophobia, Trump's affliction "proves" Russia sex tape not real, (T)
Golf, Trump spends almost one third of presidency at his own clubs (T)
Golf, Trump uses truck to block media filming him playing (T)
Golf, Trump claims he goes to his clubs for meetings but filmed playing (T)
Generation rent
Global warming, Trump tweets we need it because it is cold in winter (T)
Len Goodman retires from Strictly Come Dancing
Prince George kidnap plot
Graydon Carter steps down from editing Vanity Fair
Google v Amazon feud
H
Died
John Hurt, actor
John Heard, actor
Johnny Hallyday, French singer
Hugh Hefner, Playboy
Sean Hughes, comedian
Robert Hardy, actor
Jon Hillerman, actor, Magnum PI
Heather Heyer, activist, Charlottesville
Howard Hodgkin, artist
Darcus Howe, activist
Peter Hall, theatre director
Claire Hollingworth, journalist, first to report outbreak of WWII
Hyperloop
Hull, UK City of Culture
Frankie Hill, 6, sets up homeless campaign
Historical sex crimes
Hunting trophies (T)
Homosexuality decriminalised, 50th anniversary
Homelessness
Tristram Hunt quits politics, new head of V&A
Lewis Hamilton wins F1 championship
Lewis Hamilton and the princess dress
Lewis Hamilton avoids tax on private plane
Prince Harry engaged
Tom Harrison completes London marathon in 6 days in gorilla suit
Hollyweed, Hollywood sign changed
Handshakes, weird (T)
Nikki Hayley, US ambassador threatens UN on Jerusalem (T)
Hand towels on Air Force One not soft enough (T)
Katie Hopkins fired from Mail Online
Michael Hestletine: Brexit worse than Corbyn government
Huntingdon's disease, "groundbreaking" drug found
Hard Brexit
Marcus Hutchins stops WannaCry virus
"Hot Felon", Jeremy Meeks dates Philip Green's daughter
High five, Jeremy Corbyn and Emily Thorberry's goes wrong
HS2
Rolf Harris released from prison
Jeremy Hunt takes on Stephen Hawking on NHS, loses
Heathrow third runway
I
Iran nuclear deal (T)
Iran street protests
Inappropriate behaviour, euphemism for sex assaults
Island of Ireland, border and Brexit
Iceberg water costing £80 a bottle goes on sale
Kazuo Ishiguro, winner of the Nobel prize in literature
Invictus Games
iPhone, 10 years old
International Campaign to Abolish Nuclear Weapons, wins Nobel Peace Prize
Intercontinental ballistic missile, first test by N Korea
ISIS militarily defeated in Syria and Iraq
Inauguration crowd size (T)
Irma, hurricane, one of strongest in history
Impeachment often discussed (T)
Ivanka claims people will do their taxes on a postcard after tax cuts (T)
Ivanka, Trump tweets the wrong one (T)
India set to become 5th largest economy
Immigration
Iraq Historical Allegations Team
Insects decline 75% in 30 years, German study
Irish Coast Guard Rescue 116 helicopter crash
Interest rate rise, first in ten years
IKEA switches to snap together furniture
Impact assessments, absence of, on Brexit
Italy fail to qualify for first World Cup in 60 years
IMDB, film website closes message boards
J
Died
J Geils, rocker
Al Jarreau, jazzer
Boris Johnson of the F.O.
Clifton James, Sheriff Pepper, James Bond
Joni Sledge, Sister Sledge
Joel Joffe, Mandela defence lawyer
Anthony Armstrong Jones, photographer
Jerusalem – Trump declares capital of Israel (T)
Boris Johnson's Iran gaffe
Boris Johnson's Myanmar gaffe
Boris Johnson's dead bodies in Libya gaffe
Jobs, jobs, jobs (T)
Anthony Joshua beats Wladimir Klitschko
Jogger attack on Putney Bridge
Javanka, Steve Bannon's name for Jared and Ivanka (T)
Judges: "enemies of the people" , Daily Mail front page rant
Jean-Claude Junker
Juno spacecraft pictures of Jupiter
Doug Jones, Democrat wins Alabama Senate seat (T)
Boris Johnson and the non (?) radioactive peach juice
Boris Johnson and the Russia spat
Stanley Johnson in the jungle
Jo Johnson and university "no platforming" threat
Journalism under attack (T)
Jeff Jones UBER president resigns
Jazz, 100th anniversary of first jazz record
K
Died
Christine Keeler, Profumo affair
Kim Jong-Hyun, K-popper
Gordon Kaye, actor, goodbye goodbye
Bernard Kenny, stabbed trying to protect Jo Cox
Helmut Kohl, former German Chancellor
Adnan Khashoggi, arms dealer
Kim Jong-nam, N. Korean leader's half brother
Robert Knight, singer
Kepler-90i, new planet discovered in solar system
Knee-gate, Julia Hartley-Brewer accuses Michael Fallon of touching
Knee, taking the: US football stars protest police violence (T)
Jared Kushner (T)
Kim Jong-un (T)
Knightscope K5 anti-homeless security robot bullied of San Francisco streets
Harry Kane, top goal scorer in calender year
KKK (T)
Kensington and Chelsea Council, Grenfell Tower fire
Kaspersky, anti-virus software, Russian exploit warning
Travis Kalanick, UBER CEO resigns
Kiri Te Kanawa, soprano, retires
Robert Kelly, professor interrupted by his children on live TV
Peter Kay cancels tour
Kitchen rolls, "beautiful, soft" Trump throws to Puerto Ricans after hurricane (T)
Colin Kaepernick, NFL, takes a knee during US national anthem (T)
Keystone XL pipeline, Trump v native Americans (T)
Kompromat – information collected for blackmail
Greg Knight, Tory Mp's bizarre campaign video
L
Died
Jerry Lewis, comedian
Las Vegas country music festival shooting
Martin Landau, actor
Jake LaMota, boxer, "The Raging Bull"
Victor Lownes, Playboy executive
Veronica Lucan, Lord Lucan's widow
"The largest audience ever to witness an inauguration, period" (T)
"Little rocket man" Kim Jong-un (T)
London Bridge attack
London Zoo fire
Lettuce shortage
Richard Leonard, new leader Scottish Labour Party
John Lewis gender neutral clothes
Lost documents from National Archives re. Falklands, Northern Ireland etc.
Laptop ban on lanes (T)
La La Land wins best picture Oscar, then didn't in envelope mix up
Las Vegas shooting
Lord's Prayer, Pope's re-translation
Lloyds Bank, last government shares sold
Vera Lynn releases hit new album at 100
"Loot boxes" in video games and child gambling
Leonardo da Vinci's Salvator Mundi, most expensive painting ever sold, $450m
Liverpool car park fire
Lewes Bonfire Night Zulu "black up" abandoned as racist
M
Died
Roger Moore, actor
Charles Manson, helter skelter
Martin McGuinness, politician
Mary Tyler Moore, actor
Robert Miles, DJ, producer
Erin Moran, Joannie Cunningham, Happy Days
Ronnie Moran, footballer
Bruce McCandless II, astronaut
Michael I of Romania, King
Rhodri Morgan, First Minister of Wales
Sheila Michaels, activist, popularised "Ms"
Brian Matthew, broadcaster
Cormac Murphy-O'Connor, cardinal
Mandalay Bay Hotel, Las Vegas shooting
#MeToo
Robert Mueller's Russia investigation (T)
MSM, Mainstream media (T)
Elon Musk
Meghan Markle
Muslim ban (T)
MAGA – Make America Great Again (T)
Marine Le Pen
Emmanuel Macron, French President
Mar-a-Lago (T)
Maybot – Theresa May
Mental health
Missteps – euphemism for sex assaults
MOAB, Mother of all Bombs (T)
Gina Miller, Brexit campaigner
Roy Moore, Alabama (T)
Moonlight wins best picture Oscar after envelope mix up
Manchester City FC
Manchester Arena attack
Jose Morinho, not so special
Meerkats killed in London Zoo fire
Momentum, campaigning group
Joe McFadden wins Strictly Come Dancing
Melania wears high heels on Puerto Rico hurricane visit (T)
Melania has a body double? (T)
Melania swats away Trump's hand (T)
Lionel Messi buys world's most expensive car, outbids Ronaldo
Emmanuel Macron wins French election
Million Women March (T)
Angela Merkel wins fourth term as German Chancellor
Monarch Airlines collapse
Theresa May
Micronesia sinking
Myanmar human rights
Robert Mugabe, PM Zimbabwe, forced to retire
"Gucci Grace" Mugabe held by rebels
Chelsea Manning has sentence commuted by Obama
Millennials
Melissa McCarthy spoofs Sean Spicer on SNL (T)
Mental health awareness
Jack Munroe wins Twitter libel case against Katie Hopkins
"Marine A" sentence quashed
Moggmentum, Moggmania, Jacob Rees-Mogg supporters
Microbeads
"Magic money tree", there is none – Theresa May
Muslim travel ban (T)
Microsleep, cause of Croydon tram crash?
Montenegro PM shoved aside by Trump at NATO summit (T)
Multiverse, evidence of parallel universes found
"Mutineers" Telegraph front page headline re. MP Brexit rebels
"Metropolitan elite",
Mosque of al-Nuri destroyed by ISIS
N
Died
John Noakes, Blue Peter
Barry Norman, critic
Geoff Nicholls, rocker, Black Sabbath
Jana Navotna, tennis player
Masaya Nakamura, "father of Pac-Man"
Manuel Noriega, Panamanian politician
Heather North, voice of Daphne in Scooby Doo
Nutmeg, world's oldest cat at 32 (144 in cat years)
National Rifle Assoc. - always too soon after shootings to talk about gun control (T)
No platforming – students refuse controversial speakers
Net neutrality
"Nambia" Trump praises non-existent country (T)
Lee Nelson hands PM P45 at Tory conference
Neymar becomes most expensive player in transfer history
Nokia 3310, classic renewed
Paul Nuttal quits as UKIP leader
Northern Ireland qualify for 2018 World Cup
NHS cyber attack
NHS cancels operations on knees, hips, eyes
NHS parking charges
NHS drunk tanks
Nuneaton bowling alley siege
Nutella changes recipe
Neopalpa donaldtrumpi, new golden headed moth named (T)
Rania Nashar, first female CEO of Saudi bank
Naruto, selfie copyright dispute monkey, PETA Person of the Year
Olive Norris, oldest papergirl retires at 88
National Trust gay pride badge row
Nuclear weapons ban treaty signed at UN, boycotted by countries that have them
Nuclear weapons tested by North Korea
National monuments, Trump cuts protections (T)
O
Oumuamua – asteroid, UFO?
One pound coin, new
George Osborne, new Evening Standard editor
Oscars envelope for best pic mix-up
Obamacare repeal attempts (T)
Jared O'Mara, MP suspended over offensive comments
Orb, glowing, touched by Trump in Saudi Arabia (T)
George Orwell statue at BBC
Ophelia, storm causes red sky
"Oh for God's sake" Brenda from Bristol on hearing about election
One For Arthur wins Grand National
Barack Obama leaves office
Orion, NASA builds craft for deep space missions
One billion pounds to secure DUP support for PM
Bill O'Reilly, Fox News host fired over sex allegations
"Oh, Jeremy Corbyn" chant at Glastonbury
Obstruction of justice claims re. Trump and Michael Flynn firing (T)
Oxford Junior Dictionary removes words related to nature
Online abuse
P
Died
TaraPalmer-Tomkinson, socialite
Tim Pigott-Smith, actor
Tom Petty, rocker
Anita Pallenberg, actor
Robert M. Pirsig, Zen and the Art of Motorcycle Maintenance writer
Bill Paxton, actor
Ruth Pearson, dancer, Pan's People
PC Keith Palmer, Westminster Bridge attack hero
Slobodan Praljac, Bosnian general takes cyanide in war crime court
Stephen Paddock, Las Vegas gunman
Prince Philip retires
Prince Philip's death wrongly announced by Daily Telegraph
Oscar Pistorius' jail sentence extended
Paris Climate Accord (T)
Puerto Rico devastated by hurricane Maria
Marine Le Pen loses French election run-off
Pepsi advert using protest movement images pulled
Poverty affects 1 in 4 children in UK
Plastic pollution
Pope looks glum on meeting Trump (T)
Paddington Bear film a hit
Paradise Papers
Paris Climate Change Accord ditched by Trump (T)
Poland v the EU over judicial independence
Putin believed by Trump on Russian meddling in US election (T)
Putin announces he will run again for President
"Pocahontas", racial slur made by Trump at ceremony honouring Navajo veterans (T)
P45 handed to Theresa May during conference speech debacle
George Papadopoulos, White House advisor pleads guilty to lying to FBI (T)
Productivity, poor UK levels fall further
Piegate, footballer Wayne Shaw charged with influencing betting market
Penis drawn in sky by US navy pilots
Passchendaele 100th anniversary of battle
Pyongyang
Parsons Green tube explosion
Price Waterhouse Coopers blamed for Oscars mix-up
Carles Puigdemont, Catalonia's sacked President
Polymer £10 note
Pollution in UK too dangerous according to UN and WHO
Reince Priebus Whitehouse Chief of Staff fired (T)
Mike Pence, USVP's pre-arranged walkout of NFL game when players take a knee (T)
Mike Pence says Trump has "fulfilled miracles" (T)
Priti Patel, MP resigns after unofficial Israeli meetings
Psychiatrists warn about Trump's mental state (T)
Post-truth (T)
Pound coin, old one out of circulation
Valdimir Putin announces he is running for President again
Christopher Plummer replaces Kevin Spacey in Ridley Scott film
Q
Queensferry Crossing over Firth of Forth opens
Qatar diplomatic crisis v Saudi Arabia
Queen's broadcast tops Xmas day TV ratings
Queen's grandson's company paid £750,000 to organise Queen's birthday
HMS Queen Elizabeth launched, leaks
Queen invested £10m offshore, Paradise Papers revelation
Quantitative easing, US Federal Reserve calls an end
Quantum computing
Q#, Microsoft quantum programming language
Quinoa
R
Died
George Romero, director
Don Rickles, comedian
James Rosenquist, artist
David Rockefeller, banker, aged 101
Hans Rosling, physician
Derek Robinson, "Red Robbo", trade unionist
Regulations, ending of (T)
Christiano Ronaldo wins Ballon d'Or
Russia investigation (T)
Russian interference
Russian troll farms
Russia banned from Winter Olympics
Russian Revolution 100th anniversary
Ringling Brothers and Barnum & Bailey circus closes after 146 years
Rohingya Muslims attacked in Myanmar
Rallies, Trump's safe space (T)
Rhianna's cousin shot in Barbados
Ryanair pilot strike
Robots to take half of jobs?
"Remoaners"
Reformation, 500th anniversary
S
Died
William G Stewart, Fifteen To One host
Sam Shepard, actor
John Surtees, racer
Peter Skellern, pop star
Peter Sarstedt, pop star
Alan Simpson, writer with Ray Galton
Carol Lee Scott, actor, Grotbags
Bunny Sigler, singer
John Surtees, racing driver
Jill Saward, sex assault campaigner
Keely Smith, singer
Carl Sargeant, ex-Welsh Minister
Tim Piggot-Smith, actor
Sutherland Springs, Texas church attack
Snap election
OJ Simpson released
Star Wars: The Last Jedi
Sean Spicer (T)
Snowflakes, those easily offended
"Strong and stable", Tory refrain
SAD! Often used in tweets by (T)
Skywalker hoolock gibbon, new species discovered
Submarine, Argentine, lost
Saudi princes detained for corruption
Anthony Scaramucci, Whitehouse Communications Director, fired after 11 days (T)
Smart speakers
Soft Brexit
Sexual assault allegations (T)
South China Sea Islands territorial disputes
Southern Trains, many strikes
Spanish constitutional crisis
Standing Rock, Sioux Tribe protest Dakota Access pipeline
Soft drinks levy - Sugar tax announced in Budget
Spice, drug affecting communities
Swatting, video gamers prank call police over online disputes, deaths result
Sixtus Dominic Boniface Christopher Rees-Mogg, Jacob names sixth child
Social care cap of £72,500 scrapped
Social Mobility Commission quits
Kevin Spacey sex assault allegations
Selfitis: obsessive need to post selfies
Sanctions on North Korea (T)
Safe spaces for students
Stalking sentence doubled
Nicola Sturgeon
Sharks freeze in US East Coast cold snap
Stirling's Brexit fuelled depreciation "worst in history"
Grant Shapps, MP ringleader of failed coup attempt of PM
Scooter thefts
Sleeping Beauty banned from primary school for inappropriate sexual behaviour
Somalia famine
Anna Soubry, MP receives death threats over Brexit stance
Smacking children to be banned in Scotland
T
Died
Butch Trucks, rocker, Allman Brothers
Jay Thomas, actor
Graham Taylor, footballer
Tiki torches in Charlotesville (T)
Time's Person of the Year sex abuse silence breakers (T)
Tweets (T)
Trump says he refused Time's Person of the Year (T)
T-Charge for diesel vehicles
Traingate – Corbyn v Virgin Trains
Tax cut in USA - "biggest ever" (T)
TTP trade deal withdrawal (T)
Twitter troll farms in Russia
Twitter employee deactivates Trump's account for 11 minutes (T)
Tramadol, Laura Plummer jailed for import of 290 tablets into Egypt
Transexuals
Transgender recruits allowed in US military, Trump drops opposition (T)
Twitter increases message character limit to 280
Trident, Government admits missile test malfunction
T-Charge, London anti-pollution measure
Tesco's green turkeys "ruin Christmas"
Tian Tian, Edinburgh Zoo panda not pregnant
Tesla car company overtakes Ford in market value
Donald Tusk, President of the European Council
Trump v TTIP trade talks (T)
Trump v TPP trade talks (T)
Trump says he turned down Time's Person of the Year, Time denies offering it (T)
Malcolm Turnbull, Trump hangs up on Australian PM (T)
U
Unpopular – least popular President ever (T)
Uber's various problems
UNESCO, US withraws from (T)
UKIP new logo like Premier League's
UKIP vote collapse
Unicorn – food that is dyed rainbow colours
Uniform, gender neutral in school in Lewes
Universal Credit roll out
UFOs existence "beyond reasonable doubt": ex Pentagon official
UN says UK welfare cuts are a "human catastrophe" for disabled
United Airlines settle compensation with passenger Dr Dao dragged off plane
Unisex toilets
United States of Europe
Universal basic income
V
Died
Frank Vincent, Sopranos, Goodfellas actor
Leo Varadkar, politician, a key to Brexit
"Very fine people on both sides" Trump on white supremacist rally, Charlottesville (T)
VX nerve agent killed Kim Jong-nam
Guy Verhhofstadt, European Parliament negotiator: Brexit "waste of time"
Virtue signalling
Venezuela economic crisis
Virgin Care sues NHS
Virgin Care wins £1bn NHS contract
Viagra cleared for over the counter sale from next year
Vaping said to be as dangerous as smoking
Volunteers considered for UK border control
Volcanic activity
Leonardo da Vinci painting, Salvator Mundi, most expensive ever sold
W
Died
John Wetton, rocker, King Crimson
Don Williams, singer
Adam West, actor, Bat Man
Heinz Wolff, scientist
Harvey Weinstein
Wall at Mexico border (T)
WannaCry cyber attack
Women's March, much bigger crowd in DC the day after the inauguration (T)
Lavinia Woodward, medical student stabbed boyfriend, spared jail
Wagamama staff threatened over Xmas sick leave
Water cremation, dissolving the dead
Walnut Whip, Nestle removes walnut
White supremacists
Serena Williams wins Australian Open while pregnant
Claudia Winkleman revealed to be BBC's highest paid female presenter
Wheat, running through fields of: Theresa May confesses to naughtiest childhood act
Sophia, first robot granted citizenship, Saudi Arabia
Jodie Whittaker, new Dr Who
Tiger Woods arrested for driving while intoxicated
Westminster Bridge attack
Wall at Mexican border (T)
Whitehouse, "a real dump" according to Trump (T)
Whitehouse leaks (T)
Whitehouse Xmas decorations look like "house of horrors" (T)
Frederica Wilson, congresswoman's feud with Trump (T)
Winery – Trump boasts he owns one of largest in US, winery denies it (T)
Gavin Williamson, Defence Secretary keeps tarantula in office
Wood-burning stoves face crackdown
X
Xi-cc++ - new particle
Xenophobia on rise world-wide
Y
Died
Malcolm Young, AC/DC
Deborah Watling, actress
Yacht lotto, 50 Tory MPs want public to buy Queen new yacht
Youthquake – Oxford Dictionaries' word of the year
Milo Yiannopoulos, controversialist's book deal cancelled
Malala Yousafzai attends Oxford University
Yemen war
Yarl's Wood detention centre abuse
"Yank-shake", Trump's weird dominance handshake
Yellow car "ruins" tourists photos in scenic Bibury, Gloucestershire
Yiwu-London, longest freight train route in the world
Z
Nanzin Zagari -Ratcliffe, detained in Iran
"Zombie drug", spice, synthetic marijuana
Zimbabwe military takeover
Zero-hours contacts, Labour's manifesto pledges to ban them
Mark Zuckerberg admits to Facebook fake news failings
Zulu dancers defend blacking up at Lewes Bonfire Night
Summer Zervos, Apprentice contestant sues Trump for sexual misconduct defamation (T)
Zealandia recognised as seventh largest continent