Alastair Campbell: Brexit Is Now Undeliverable
17 October 2017, 07:51 | Updated: 17 October 2017, 07:53
Alastair Campbell told Nick Ferrari he has come to one simple conclusion: Brexit is simply undeliverable.
Tony Blair's former spin doctor old LBC that even Theresa May knows that Britain cannot leave the European Union "without doing catastrophic damage to the country".
He was speaking after Theresa May met with Jean-Claude Juncker and Michel Barnier in Brussels.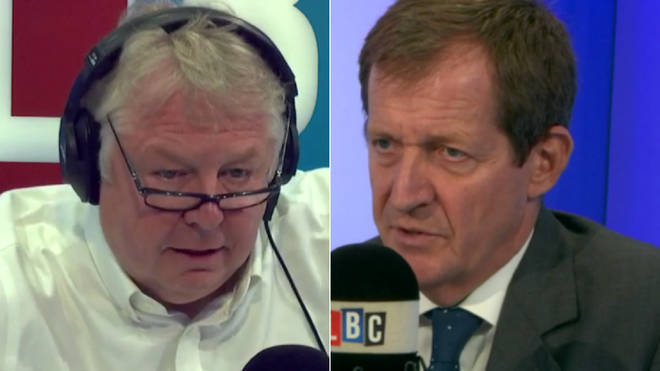 He said: "The awful truth is that it's undeliverable. The awful truth is that in the timeframe that she's got, it cannot be done."
When Nick asked if that meant he thought Brexit would never happen, he added: "Well that is certainly my hope. Because I think we've made a catastrophic error last June and I think that more and more people are coming to realise that.
"Because of the referendum and because of her backbenchers, it puts her in an incredibly difficult position.
"But leadership is about confronting big challenges. The biggest challenge we face is making sense of Brexit and I think she knows in her heart it cannot be done without doing massive damage to the country."
Brexiteers listening to LBC were fuming by Mr Campbell's comments:
@LBC Nick all these Remainers you have on and those who use Social Media think they Morally Superior to anybody else

— Tony Doyle (@tonydoyle387) October 17, 2017
Alistair Campbell bleats on about ignoring the referendum. Hardly surprising. Him & Blair ignored 1M marching against Iraq war @lbc @GMB

— Fei🇬🇧 (@fatfei_) October 17, 2017