Archbishop Of Canterbury Responds To Child Abuse Reports
2 February 2017, 09:32 | Updated: 2 February 2017, 10:27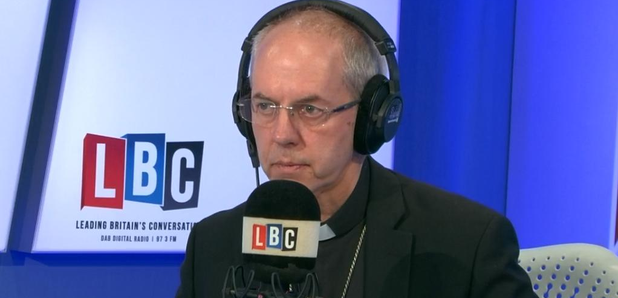 The Archbishop of Canterbury has told LBC he was "completely unaware" of physical abuse at a Christian holiday camp he worked at in the 1970s.
The Church of England has apologised after it emerged police hadn't been informed of allegations about John Smyth until 2013.
Archbishop Justin Welby says he wasn't aware of any claims of wrongdoing at the time they were colleagues.
- Archbishop of Canterbury & Cardinal Vincent Nicholls: Interview In Full
But speaking exclusively to Nick Ferrari on LBC, the Archbishop said: "The report which was done in 1982. Nobody knew about it in the Church for almost 30 years after that.
"I was completely unaware of any abuse. I never heard anything at all at any point. I never had the slightest suspicion that there was anything going on."
He said that once he found out, he ensured the police were aware, adding: "I was told that the Bishop of Ely, it fell within his diocese, had been informed by a survivor of what had happened and had written to the police. We checked that indeed the police had been contacted immediately as our church rules.
"In the Church of England, we've tightened up enormously with safeguarding officers in every diocese.
"The safeguarding team that's gone from one half full-time person when I took over, we've now got six full-time people and so on. What I did was check, we checked that the police had been informed and they had been."