Archbishop Of Canterbury Says The House Of Lords Is "Totally Unwieldy"
21 September 2017, 14:21
The House of Lords has become too big and is in need of reform, the Archbishop of Canterbury has told LBC.
The Most Reverend Justin Welby, who sits with 25 other Bishops in the Upper Chamber, believes the current House has become "totally unwieldy".
It's as new research suggests more than 100 peers claimed almost £1.3m last year, despite not speaking in the House at all during that period.
The Electoral Reform Society revealed 115 of the 798 eligible peers failed to speak in the chamber in 2016/17 - but still claimed an average of £11,091 each.
In an exclusive phone-in on LBC, the most senior bishop in the Church of England told Nick Ferrari: "It's totally unwieldy.
"It's noticeable there's a core that works very, very hard indeed and others who take it very seriously and when they come in they come in for a good reason and contribute.
"But we shouldn't be taking money just for doing nothing."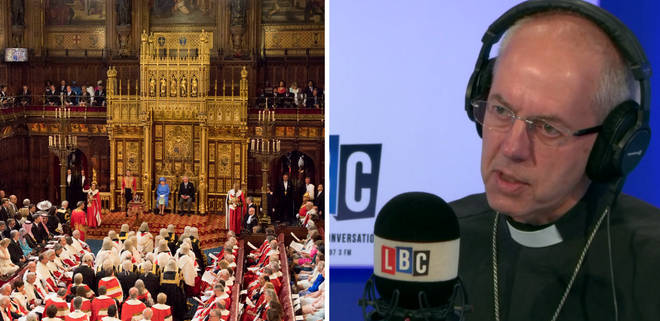 Describing his duties in the Lords as one of the "greatest privileges of my life", he now wants to see reform.
He continued: "We need an Upper House, you need a revising chamber. The House as its best is when it's working line by line through complicated legislation that has come up from the Commons in a way that is not really good."
He finished: "That's what a revising chamber and Upper House should do."