'You will agree to dental checks': How the asylum system would run under Nick Ferrari as Home Sec
26 January 2023, 10:06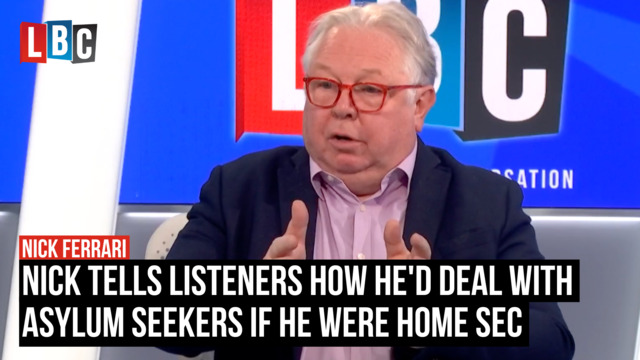 Nick Ferrari sets out how the asylum system would work under him as Home Secretary
After an Afghan asylum seeker was sentenced for murdering a man after an argument over an e-scooter, Nick Ferrari set out what his rules for the system would be if he were in charge of Home Affairs.
Nick Ferrari at Breakfast on LBC delivered an impassioned monologue on how the asylum system would run if he were "Home Secretary or Prime Minister".
He said for "any arrival of an indeterminate age…we don't put you in a hotel where we lose track of you or in some instances you possibly fall prey to traffickers or all sorts of other issues".
READ MORE: X-Ray asylum seekers' wrists to verify their age, minister demands after Afghan murders DJ after posing as 14-year-old
"No", Nick continued. "We look after you properly, and not in a Manston-style camp which was dangerously overcrowded."
His comments came after triple killer Lawangeen Abdulrahimzai was sentenced to life for murdering man in a dispute over an e-scooter.
Nick said "warehouses" could be "turned into appropriate accommodation, professionally run, meals, education" and whatever needed.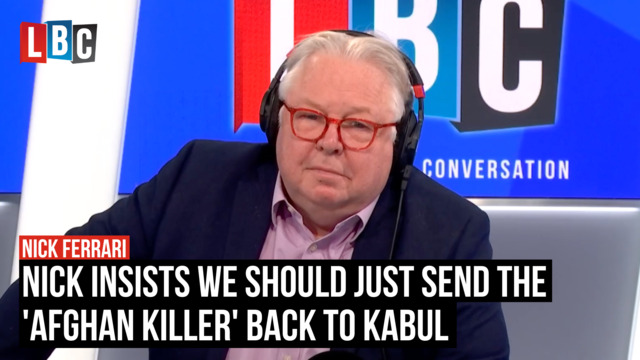 Nick Ferrari: Just send the killer asylum seeker back to Afghanistan
"While there, you will agree to dental checks", he said firmly, explaining that wisdom teeth typically erupt between 17 and 25, and that bone density checks would also help to determine the age of people coming to the UK.
Nick added this would be the case if there was "the slightest doubt" about asylum seekers arriving, but "not obviously if you're a baby" or "clearly seven", "instead of giving everyone the benefit of the doubt".
He said when it can be determined that a person is genuinely a teenager, then it would be safe for them to be in school with other people their age "instead of putting an 18 year old former drug dealer and triple murderer in with 14 year old girls who he used to send explicit messages to via text".
READ MORE: Killer Afghan asylum seeker jailed for life as it emerges he 'chatted up girls at school while posing as boy, 14'
Nick finished: "By the way this guy, put him on a plane, and I don't care - as many lawyers as you like - would any lawyer step forward to defend this person? Just let him land at Kabul and take his chances."