Caller Tells Jo Marney: "You Sound Like A White Supremacist"
23 February 2018, 08:46 | Updated: 23 February 2018, 09:41
This is the moment a black caller told Jo Marney she sounds like a white supremacist live on LBC.
Ms Marney was live on LBC with her boyfriend Henry Bolton, who was forced out as Ukip leader after offensive comments from her private messages were made public.
In the posts about Meghan Markle, she wrote that a "black American" fiancee will "taint" the Royal Family with "her seed" and pave the way for a "black king".
LBC listener Jay called in to ask her about those questions - and he was not happy with the answers.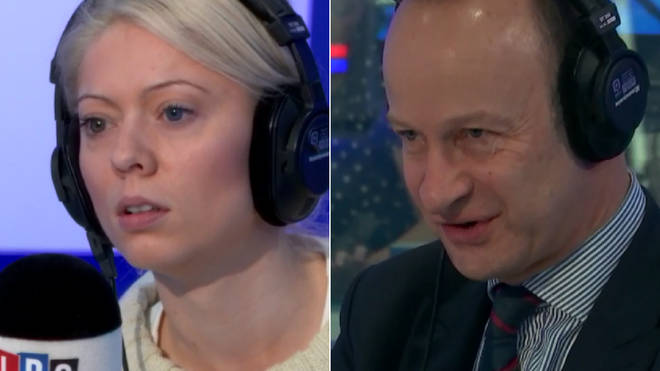 Jay said: "As a black person myself, i just want to understand what you mean when you say that having a black person within the Royal Family would actually taint the Royal Family.
"Considering you've previously said 'This is Britain, not Africa', I'd just like to hear your views on that."
Ms Marney responded: "I don't have those views, I think that skin colour is irrelevant. But I am a traditionalist and how would you feel about having a white Emperor of Japan?"
Jay asked her: "What do you mean by traditionalist? Do you mean the Royal Family should only be white?
"I'll be honest with you, you sound like a white supremacist."
Ms Marney insisted: "I'm not a white supremacist. I didn't say that I disliked black people or that black people are not equal to white people.
"I apologised for that statement and I don't stand by that. I'm very sorry and I didn't mean to cause you or anyone else any offence."
The former model added that she had more of a problem with Ms Markle's nationality than her skin colour. But Nick had a perfect riposte: "You don't go that far back when they were Germans!"
Ms Marney responded: "Well, they weren't Americans."
Henry Bolton and Jo Marney on LBC: Watch The Whole Thing