Conservative Mayoral Candidates Clash Over How To Stop Violent Crime In London
22 August 2018, 09:57 | Updated: 22 August 2018, 10:10
The three people hoping to become the Conservative candidate for London Mayor have clashed over how to tackle youth violence in a debate on LBC.
Shaun Bailey, Andrew Boff and Joy Morrisey were all in the LBC studio as they bid to win the nomination to face Sadiq Khan in the Mayoral election in 2020.
Violent crime is obviously a big issue on Londoners' minds with the rocketing rate of knife crime - and four people hospitalised in shootings in the last two days.
Nick Ferrari asked how they would fix it and things got pretty heated.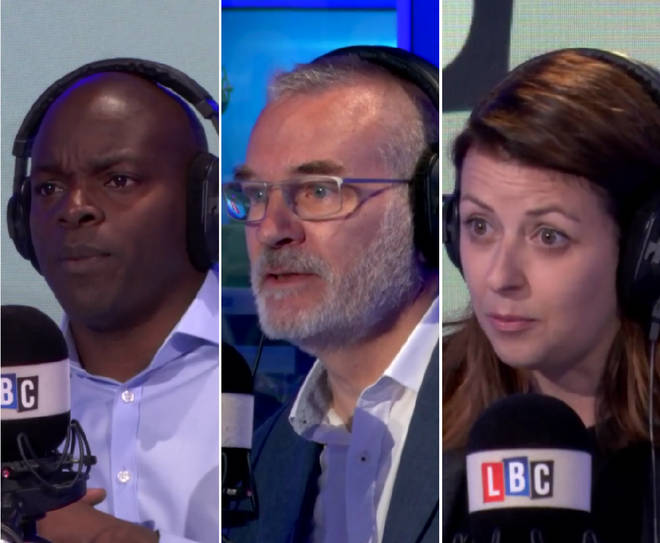 The caller Michelle said she was terrified of her two teenage sons becoming involved in violent crime.
Joy Morrisey responded: "What I'm advocating as the Mayoral candidate is to put a holistic approach to violence. I'd like to see more care for after-school clubs, more investment in psychological support.
"There's an academy, the Oasis Academy, who have a very good wrap-around approach to tackle knife crime. But it also helps the student in all aspects of life, not only in academics, but also in their whole life once they leave school. They've had a dramatic drop in knife crime."
Shaun Bailey insisted that family services is key, saying: "It's about making families stronger. You must have the family in the conversation. You've got to work with what you've got.
"Then you've got to do something with the policing. It's hard not to get involved in crime as a child if it's everywhere around you.
"A lot of children carry knives as a place of fear, so police need to make them feel that they're safe before we have conversations with them on how to go forward."
But Andrew Boff insisted: "This is a public health emergency. It's getting worse. We had two shootings in broad daylight in Rayners Lane yesterday.
"This is an emergency and it's not something the Mayor of London can sit down and theorise about. He needs to take action now and he isn't.
"I'd set up a London Violence Reduction Commission. We're going to take the tried-and-tested solutions that they've used in Scotland and we're going to apply them to London.
Watch the full Conservative Mayoral debate below