"Idea That Farage Is Lynchpin Of UK/US Relationship Is Ridiculous"
14 November 2016, 09:48 | Updated: 14 November 2016, 09:52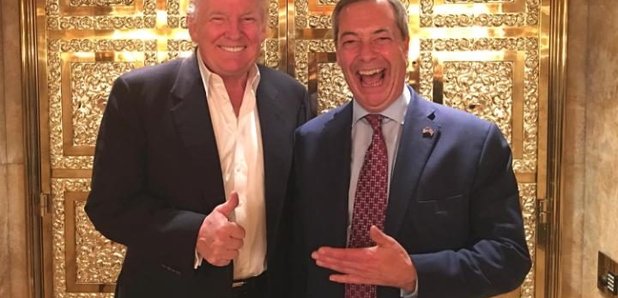 Chuka Umunna has told LBC that the idea of Nigel Farage being central to the UK's relationship with the US is "ridiculous".
The interim Ukip leader was the first foreign politician to meet with Donald Trump following his election victory in the USA.
The pair spent time together on Saturday, releasing a photo of the pair of them laughing in a golden room.
Chuka Umunna said that the UK should take advantage of that relationship, but dismissed the notion that Mr Farage is now central to our dealings with Mr Trump.
Speaking to Nick Ferrari, he said: "This is all playground stuff, isn't it?
"Nigel Farage is very proud that he's the first foreign politician to have met Trump. Congrats to him on that.
"Then you've got Theresa May, it's rather embarrassing that Farage has got there first. We all want everyone to work together in the British interest.
"But the idea that Nigel Farage is going to be the lynchpin of the US/UK relationship going forward is ridiculous.
"Equally ridiculous would be any notion of not talking to him at all about how it is you deal with the Donald Trump team."