Ferrari Hammers Hillary Over "Sense Of Entitlement"
9 November 2016, 08:54 | Updated: 9 November 2016, 14:18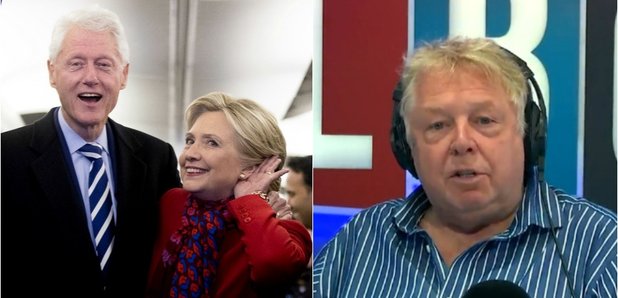 Nick Ferrari says the Clintons' sense of entitlement is what cost Hillary Clinton the US Election as Donald Trump is elected as President.
The Republican candidate will be the 45th President of the United States after he swept to victory on Tuesday night.
Speaking on his show live from New York, Nick believes the moment Bill Clinton says "It's her turn" had a big impact on voters, who wanted something different.
He said: "There is a growing sense that essentially all politicians are corrupt. They are so distant the way their lives lead and I come back to something that was picked up on the weekend.
This was a Bill Clinton saying 'It's her turn'. Trump and his team made as much of that as they possibly could. Because it speaks to this hideous life of entitlement that the Clintons clearly felt they had.

"How dare he. What do they do? Just share it out between them and let's wait twenty years and then Chelsea gets a go? There's this sense that they were almost born to rule. it is presiding over the destruction of that dynasty."