Ferrari On Hamilton: "What Next? Matilda's View On Brexit?"
21 November 2016, 07:45 | Updated: 21 November 2016, 08:54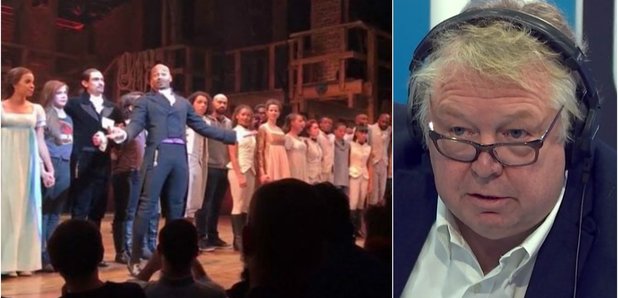 Nick Ferrari was left angry by the Hamilton actor's comments at Vice-President Elect Mike Pence - saying he's just a man paid to read a few lines.
One caller backed Mr Dixon's right to make the statement, but Nick wasn't having it.
Nick asked: "What qualifies this actor, who I'd never heard of prior to the other day, what qualifies him to lecture the incoming Vice President of the United States?
"Where does it end? Are we going to get Matilda's views on Brexit?
"We're coming to the pantomime season... what about Aladdin's view on a austerity measures? Shall we have that?"
But the caller insisted Mr Dixon was fully entitled to make his point, stating: "There are real people dying out there and the fact is if he has the opportunity to put the point across to hopefully make someone listen, I think it's a good thing."
On Friday evening, Brandon Victor Dixon, who plays America's third vice president Aaron Burr in the musical, read a statement directed at Mr Pence while standing with the rest of the cast on the stage.

He said: "We, sir - we - are the diverse America who are alarmed and anxious that your new administration will not protect us, our planet, our children, our parents, or defend us and uphold our inalienable rights."