Financial Expert: Hammond's Grim Figures Show Worst Period On Record
23 November 2017, 07:45 | Updated: 23 November 2017, 09:34
British people will be earning less in the mid-2020s than they were in 2008, making it the worst period on record, a financial expert has told LBC.
Paul Johnson, the Director of The Institute for Fiscal Studies, said Mr Hammond's Budget showed a "grim outlook" as he announced that the Office for Budgetary Responsibility (OBR) has reduced growth forecasts.
Speaking to Nick Ferrari on LBC, he said: "The forecasts really are pretty bad. And that matters for all of us, because what the forecasts also say is that earnings aren't going to grow for the next couple of years.
"And even in the early 2020s, we'll still be behind where we were in 2008, which will make this pretty much the worst period on record."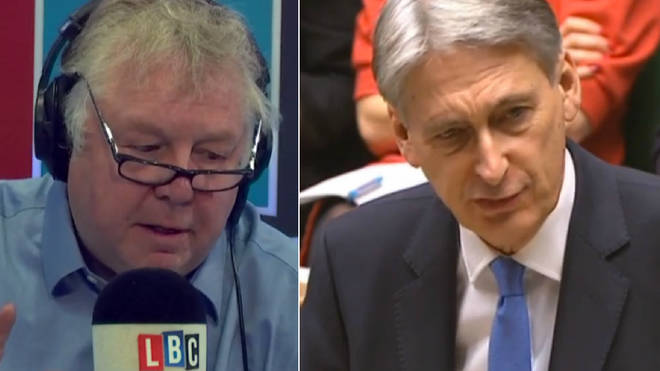 Mr Johnson did admit that the OBR predictions are not set in stone - and he really hopes they have got this one wrong.
"What they've effectively done this time," he explained, "is to say over the last seven years, we've actually been hopelessly optimistic about what's happening to productivity, what's happening to the amount we produce for every hour worked.
"For the last seven years, they've said soon we'll get back to what used to be normal. before 2008. And that just hasn't happened. In fact, nothing has happened, we've continued at the very poor levels that we've had since then.
"Now, they've said things aren't going to get back to normal any time soon.
"Now, I hope to goodness that they are wrong and that things start bouncing back. But they could still be being optimistic, because the forecasts for the next few years as still better than the last few years."