Nick Ferrari Lets Rip At Government's "Ridiculous" Domestic Violence Proposal
8 March 2018, 08:39 | Updated: 8 March 2018, 14:42
Nick Ferrari didn't hold back as he launched an attack on Theresa May's "ridiculous, puerile, headline-grabbing" policy announcement to counter domestic violence.
The government is starting a consultation today looking at new measures to tackle domestic abuse. Among the proposals is Domestic Abuse Protection Orders, which could see perpetrators banned from drinking alcohol and electronically tagged.
Nick laid into the government, insisting that no one would ever be tagged for domestic violence.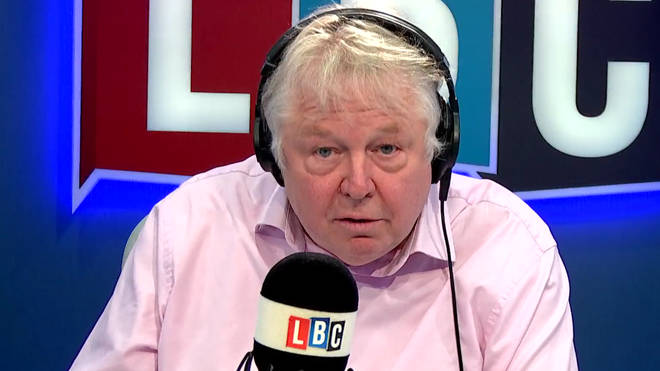 Nick said: "This is a Prime Minister who is absolutely obsessed with reviews. So we're having a review into domestic abuse. We're having a possibility of a Domestic Abuse Commissioner, otherwise known as one of those tsars.
"And you could be tagged or you could be barred from buying drink - a booze ban. How are they ever going to implement that?
"What a ridiculous, puerile, headline-grabbing, asinine, empty gesture by the government.
"'Oh, you beat up your wife or your girlfriend or your partner. You won't be able to buy any booze.'
"How are you going to implement it, you numbnuts? What are you going to do? Tattoo him across his forehead or something? Or everyone has to have a licence to show that you can buy booze? Utterly ridiculous.
"I tell you now, mark my words - no one will get a booze ban. No one will be tagged about domestic abuse.
"This is put out to coincide with International Women's Day. Of the three frontline politicians who are happening to announce it, goodness me, two of them are women, doing all they can to try and get back the female vote that has flooded away from the Conservative Party. Hardly surprising.
"Nothing will happen. It's just empty gestures, empty politics. Utterly ridiculous. Just an attempt to grab headlines."
Announcing the campaign, Theresa May said: "Domestic abuse takes many forms, from physical and sexual abuse, to controlling and coercive behaviour that isolates victims from their families and has long-term, shattering impacts on their children.  The consultation we are launching today includes a number of proposals which have the potential to completely transform the way we tackle domestic abuse, providing better protection to victims and bringing more perpetrators to justice.
""We know that domestic abuse affects those from all walks of life.  Victims can be young and old, male and female, and I hope as many people as possible will come forward to give us their views and share their experiences, as we seek to put an end to this abhorrent crime for good."