Lord Adonis Challenges Jacob Rees-Mogg To A Brexit Duel
7 September 2018, 09:05
Lord Adonis has challenged Jacob Rees-Mogg to a debate on Brexit in the LBC studio.
The staunch Remainer has become increasingly infuriated with Mr Rees-Mogg's positive comments on a no-deal Brexit and challenged him to discuss the issue on air.
The pair clashed on Twitter and now Lord Adonis wants to finish the conversation on LBC.
Speaking to Nick Ferrari, Lord Adonis said: "What does no-deal Brexit mean? What's become clear to me is that there is no agreement on what no-deal means.
"Almost no-one, not even Jacob, thinks that no-deal really means no-deal. Because if there's no deal, as the government told us two weeks ago, planes don't fly, 50-mile queues at the ports, stockpiling six week supplies of medicines, driving licenses that aren't valid on the continent. The list goes on.
"I think Jacob needs to be frank with the British people. He talks all the time about no-deal being preferable to what the Prime Minister is seeking to negotiate and what I want, which is to stay in the EU with a People's Vote.
"Let him say what no-deal is.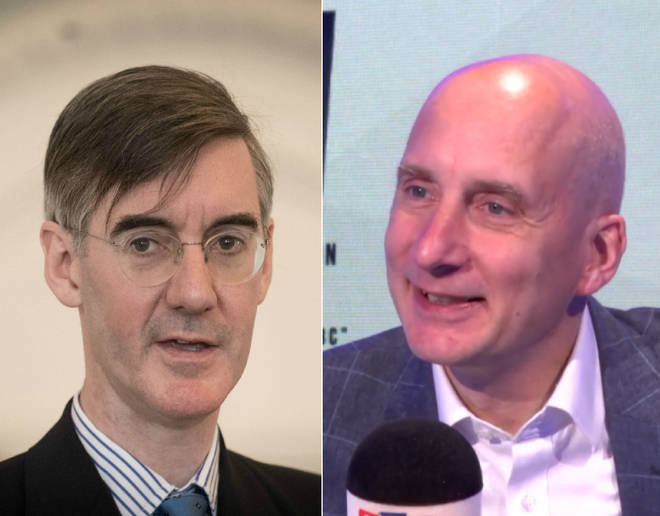 "We should have this out. I'm going back to the 18th century because I always try to meet Jacob on common ground. I have issued a challenge to him for a duel.
"In the 18th century, these duels were on Putney Heath. I took advice from the Commissioner of the Met Police, who said the best way to have a duel in modern times is on LBC.
"I'll be in the studio whenever Jacob responds positively."
Watch this space for a response from Jacob Rees-Mogg.