Outgoing Met Police Chief: London Set For Police Cuts
3 February 2017, 07:15 | Updated: 3 February 2017, 09:05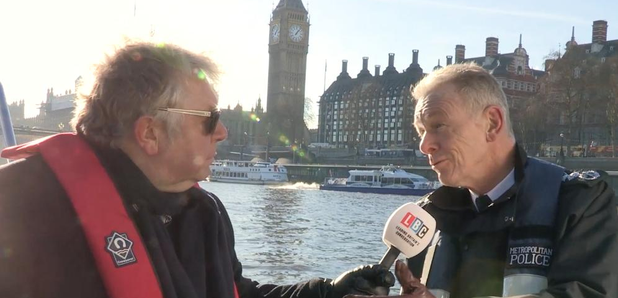 The outgoing Commissioner of the Met Police has told LBC that his successor will have to cope with fewer police officers due to cuts.
Sir Bernard Hogan-Howe says there are no further places to cut and it is inevitable that cuts in numbers will follow.
And as he prepares to leave his post, he gave his strongest warning yet that it will affect the quality of policing in the capital, saying: "You need cops. You can't throw laptops at crowds."
Speaking to the Commissioner on the police boat on the Thames, Nick Ferrari asked him what challenges his replacement will face.
And Sir Bernard responded: "The money really, sadly. It's going to go on. It's getting difficult. We've cut a lot out.
"The bottom line is that there will be less cops. I can't see any other way that it will be.
"There's only so much you can cut and make efficiencies and then you've got to have less police.
"I'm not sure that's wise in this city. It's getting bigger and we've got some big events - Notting Hill, we deploy 7,000 officers; New Year's Eve, it's 3,500 officers.
"You need cops. You can't throw laptops at crowds. You've got to deal with the situations you face. So that's going to be a real challenge."
Sir Bernard suggested that his successor will have to keep up Britain's defences against terrorism, adding: "We lead the counter-terrorist network for police across the United Kingdom.
"We've got officers based in embassies right around the world, 50-odd officers covering 70 countries.
"These are big things that whoever is going to take this job on is going to have to deal with and understand the complexity of it."