Met Police Have Thwarted FIVE Terror Attacks - Some Just Minutes Before
14 July 2017, 09:32 | Updated: 14 July 2017, 15:50
The Met Police have thwarted five terror attacks in the last few months - some of them just minutes from happening.
Six people died in the terror attack on Westminster Bridge, while eight died in the van and knife attacks at London Bridge and Borough Market.
But speaking to LBC, Cressida Dick said the police had stopped lots of other attacks just before they took place - five since the one in Westminster on 22nd March.
Cressida Dick, the Met Police Commissioner, revealed they have arrested "hundreds and hundreds" of radicalised people who are spreading hatred.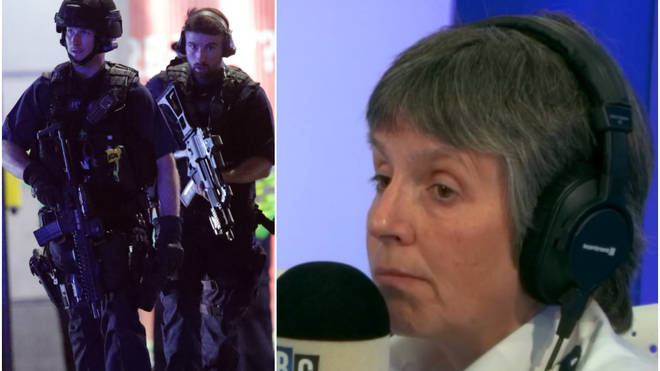 Asked how many attacks they had foiled, Ms Dick told Nick Ferrari: "Just in the last few weeks, five. And overall, it's well into the teens in the last few years where we know people were intent on attacking and that's been stopped.
"These are incidents where people have been charged, so I need to be careful about what I say, but some of them were very close to an attack. Very close."
When Nick queried whether very close meant minutes away, Ms Dick responded "Yes, yes."
"In addition, hundreds and hundreds and hundreds of arrests of people who are radicalised and are either spreading hatred or supporting terrorism or want to carry out terrorist attacks.
"We've had a huge number of successful operations, together with the intelligence agencies."