Govt migrant rehousing plan will 'decimate' community, caller tells Nick Ferrari
30 March 2023, 10:04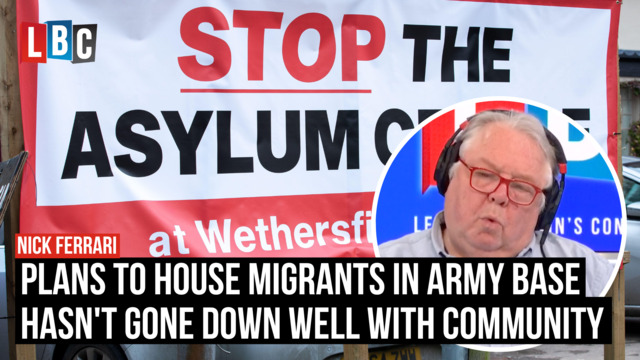 Plans to house migrants in military base gone down like a 'lead ballon' with Wethersfield community
Plans to house 1,500 refugees in Wethersfield military base have upset the village's community, a caller says.
Caller Tom said the government's new plans to relocate asylum seekers will see more than double the population of his neighbouring village move in.
"It's gone down like a lead balloon", Tom, who is located in Finchingfield, told Nick Ferrari.
This comes after the government announced proposals yesterday to relocate refugees living in hotels to empty military bases instead, in a bid to cut hotel costs.
Part of the problem in Wethersfield, Tom said, is the lack of communication from the government about the plans.
"The government thinks they can do it without consulting any of the residents.
"We haven't had any information from the Ministry of Justice to state their plans, it's just all been on hearsay and rumours."
Annoyed at the lack of government communication, Tom expressed "we're not nimby's" as he warned that other communities could be affected too.
He also added Wethersfield is a "historical community" and that such large-scale plans would "really decimate it".
Read more: Homeless dogs' charity pleads with Sadiq Khan over ULEZ expansion claiming its future is at risk
Read more: Battle lines drawn over migrants: Tory councils threaten legal action over plans to house refugees on military bases
He told Nick: "They're looking to put 1,500 people on the base, the population of Wethersfield is 700."
Nick went on to highlight that the issue isn't with the refugees themselves, but rather the sheer scale of the planned relocation compared to the size of the village.
"What are these folk meant to do? They effectively double the population of a village overnight," Nick said.
"There's probably only a couple of pubs, a post office and a butchers."
Tom later revealed to Nick that the village will be pursuing legal action over the plans and he encouraged listeners to take an interest in the government's handling of the refugee housing crisis.
"I would say to everyone though, in the UK, this could happen to your village next, so really everyone should be interested in how they do this and how they implement it."