Nigel Farage Reveals What He Said To Donald Trump About Brexit
29 November 2018, 13:05
Nigel Farage has confirmed on LBC that he spoke to Donald Trump over the phone two weeks ago about the state of Brexit.
The LBC presenter and former Ukip leader told Nick Ferrari that the President was "disappointed" with the direction Brexit was going, describing it as a "missed opportunity for the US and the UK".
Earlier this week the Republican ramped up pressure on Theresa May after saying her proposed agreement "sounds like a great deal for the EU".
"Right now, if you look at the deal, they may not be able to trade with us, and that wouldn't be a good thing," he added.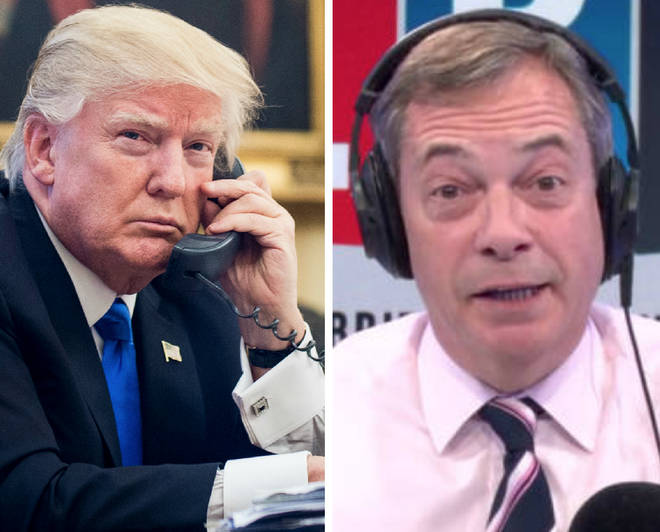 Nigel said he does not usually speak publicly about his relations with the President.
But, after the White House confirmed the phone call, Nigel said the pair had discussed Brexit, the Irish backstop and the "state of play" two weeks ago.
"[Trump] believes in national sovereignty - the nation-state," Nigel said. "He was keen to know if the UK was going to get that and from an American perspective he was keen to know about trade.
"I think the comments, the facts, that I gave him he was disappointed by."
Nigel added: "I told him it was shaping him up to be the worst deal in history."
"I think he sees it as a missed opportunity for the US and the UK, he has said it again and again that we have this amazing relationship between our countries."