Boris Johnson Insists: Stories About Me Are From People Trying To Frustrate Brexit
1 October 2019, 08:14 | Updated: 1 October 2019, 10:12
Boris Johnson has told LBC he thinks allegations of impropriety are being made against him to try to frustrate Brexit.
Mr Johnson was speaking live to Nick Ferrari from the Conservative Party Conference and insisted he had done nothing wrong with either Jennifer Arcuri or Charlotte Edwardes.
And he suggested that they stories were coming out as part of "attempts to distract from our domestic agenda".
Asked about his relationship with Ms Arcuri, who he is being accused of taking on a series of official trips while Mayor of London, he insisted: "There was absolutely no impropriety as far as I was concerned."
Moving on to the accusation by Ms Edwardes that he groped her inner thigh, he said: "I don't want to minimise the importance of this as an issue were it to be true - but it is not."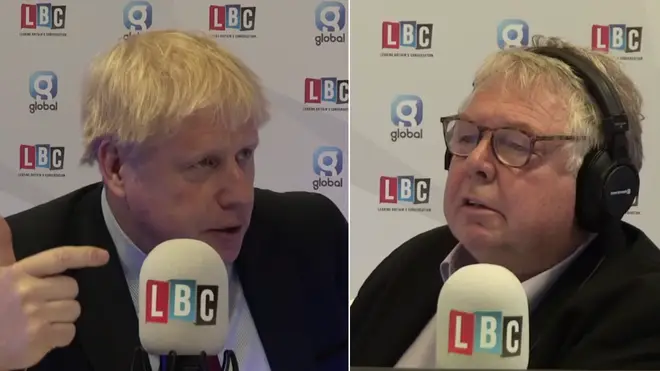 Nick asked why these stories are coming out and Mr Johnson responded: "I've been tasked one way or the other to get Brexit done by 31st October.
"There are quite a lot of well-meaning and highly-intelligent people who basically think that would be something they don't want to see.
"I think there is a concerted effort now to frustrate Brexit. I think that's a mistake. It would be very sad for our democracy were that to happen. I think that we need to get on and deliver the will of the British people."
Asked if they were politically motivated, the Prime Minister added: "I don't want to impune people's motives or to minimise the importance of the issue.
"You asked about why all this shot and shell is raining down on the government, I think it is because we are going to get on and deliver Brexit by 31st October.
"It's an attempt possibly to distract from our domestic agenda."
Boris Johnson Interviewed By Nick Ferrari: Watch In Full