RMT Boss Not Happy With Union ASLEF For 'Surrendering' To Southern
16 February 2017, 09:49 | Updated: 17 February 2017, 14:44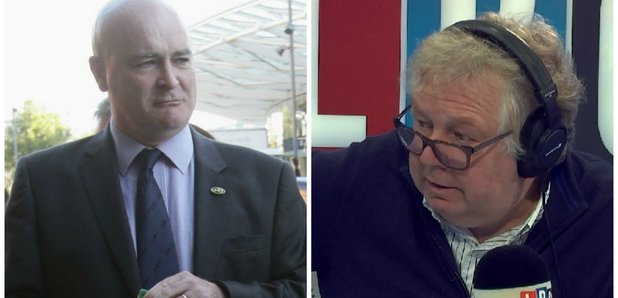 Ahead of next week's 24-hour Southern Rail strike Nick Ferrari spoke to RMT boss Mick Lynch about union ASLEF's deal with Govia.
Members of the Rail, Maritime and Transport (RMT) union will walk out for 24 hours on Wednesday (22) over a long-running dispute about safety and the role of train guards.
Train drivers' union ASLEF reached a deal with the operators of Southern Rail, Govia Thameslink (GTR), earlier this month and the result of ASLEF members ballot on the deal will be announced later today (Thursday).
On his LBC Breakfast show, Nick Ferrari spoke with RMT boss Mick Lynch about the strike - and Mr Cash was not impressed with ASLEF's deal.
Nick asked him: "Not necessarily meaning that this should force your hand, but if ASLEF do like it, why do the RMT not?"
Mr Lynch said: "Because it doesn't deal with the issues. ASLEF appear to have surrendered to the management's agenda, put forward by Chris Grayling and the government, that the railway should be de-staffed, that accessibility by the disabled and other people will be diluted.
"So we can't accept that. That's the very issue that we are on strike about, and we will continue yo campaign for a fully staffed railway."
Nick replied: "But my listeners will be very confused because presumably ASLEF members and ASLEF negotiators have the safety of both your staff, rail staff, and rail users, at heart.
"They have, as you rightly say, recommended acceptance, so why won't you?"
Mr Lynch responded: "Well because we're not prepared to collapse. ASLEF appear to have had that agenda at the start of the dispute and they appear to have collapsed in the face of management pressure."
Nick said: "Others will say they've seen sense."
Mr Lynchdisagreed. He said: "They haven't seen sense. Because they're still campaigning on the issue, but they've surrendered on the action."
At the time the deal was agreed ASLEF General Secretary, Mick Whelan, said: "ASLEF has never been against changes to working methods.
"Rather, we believe any changes should be negotiated through agreed procedures.
"I am confident this deal can provide a safer and appropriately staffed railway for passengers on Southern Rail and I will be recommending it to our members."