Sadiq Khan Reveals He Can't Sell Boris Johnson's Unused Water Cannon
11 May 2018, 08:30 | Updated: 11 May 2018, 08:41
The expensive water cannon that Boris Johnson bought but wasn't allowed to use are just sitting in storage because no one wants to buy them.
The current Foreign Secretary spent £400,000 on two second-hand water cannon from Germany, but then Home Secretary Theresa May refused to give him a license to use them.
This meant they sat unused in an unknown location and, when Mayor Sadiq Khan took office, he revealed he would sell them to recoup some of the money spent.
But speaking to Nick Ferrari this morning, he revealed that no one wants to buy the devices and he may have to just scrap them.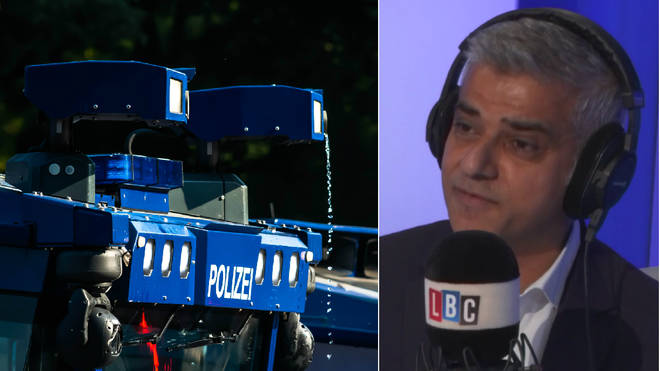 When Nick asked where the money went from the sale of the water cannon, Mr Khan revealed: "They've not been sold. Nobody wants to buy them.
"They cost £400,000 and that was before they put the CD player in them and repainted them. They were second-hand and bought from Germany when nobody else would buy them.
"There's a storage fee being paid and at some stage, we're going to have to think about scrapping them."
Nick summed up the shambles: "So Londoners are paying for storage for water cannon that can't be deployed courtesy of the current Prime Minister and Foreign Secretary."