The LBC Caller on Homelessness Who Left Listeners Livid
11 October 2018, 12:41 | Updated: 11 October 2018, 13:40
LBC listeners were furious with this caller after she said people shouldn't help the homeless because it's their own fault.
Karen said: "We don't want to see anybody cold and tired and hungry. But we need to address the underlying issue.
"A lot of these men and women are a quarter of my age and are begging for money.
"I get it every night when I get home and I have to cross the road because it drives me mad."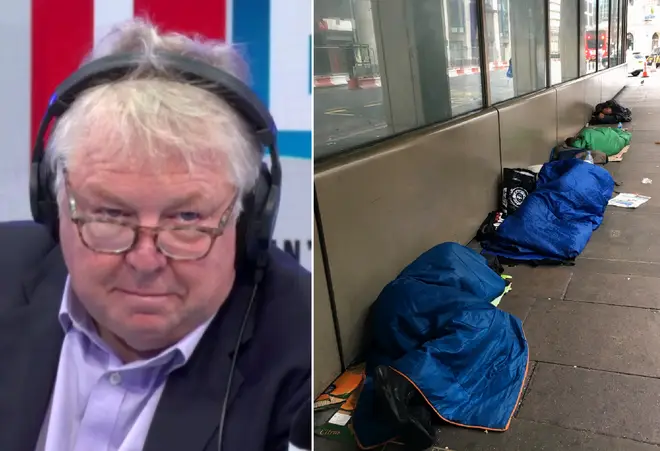 Another caller Ajay, who volunteers with the homeless, told her that it is only a minority of homeless people who are begging, but most are desperately in need of help.
But Karen responded: "I'm sorry, that is the issue. Get up and get a job.
"I've worked since I was 15. We're exhausted, but we have to keep going to pay for our debts. You have something called self-respect and you don't go in a doorway asking for money."
It got even angrier after that LBC listeners were furious.
Ghastly Karen. I've volunteered at Crisis at Christmas - many homeless have severe mental health problems and would not be able to hold or keep a job. Could she not try a little empathy? It goes a long way.

— Joanna Hughes#FBPE#withEUinSpirit#DeeplyUnhelpful (@HugsJoJoJo) October 11, 2018
But she did receive some backing...
@LBC @NickFerrariLBC karen is so right we get beggers in holloway then u see them get they benefits and buy drugs off dealers i have witnessed this and the council and the police dont care.

— James Balchin (@b28f9218139f48f) October 11, 2018
Loved Karen can she become a regular

— Mary Bate (@MaryStaffaangel) October 11, 2018