This Caller's Account Of Getting In John Worboys Taxi Is Terrifying
5 January 2018, 11:19
This is the frightening account of a woman who almost became another victim of John Worboys, the black cab rapist.
Worboys is believed to have carried out more than 100 rapes and sexual assaults on women, but is to be freed from jail following a decision by the parole board.
Alisha in Northwood hailed Worboys' cab back in 2008 and described what happened as he tried to give her spiked alcohol and got very aggressive when she refused a drink.
And it was only her extremely quick thinking that saved her from being another of his victims.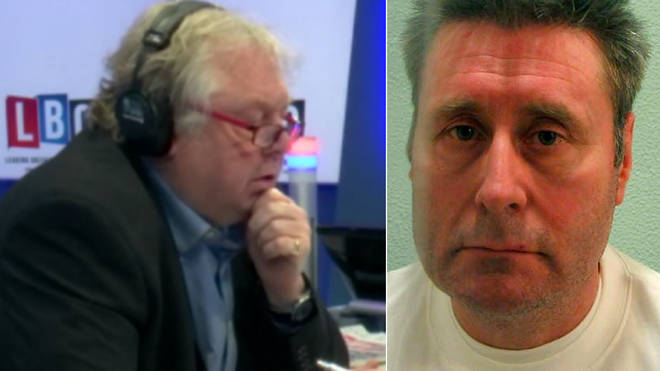 After calling Nick Ferrari on LBC, she said: "I actually hailed John Worboys' cab and sat in it. It was about 2 o'clock in the morning and he was extremely aggressive in serving me alcohol, which I clearly didn't want to drink, so I didn't.
"He asked about my evening and offered me a drink. I said 'Actually I'm fine', and he then spun a story about how he had won when he was in a casino gambling and kept forcing alcohol on me. 'Would you like vodka? Would you like champagne? Celebrate with me, I've had a great night, I can't drink alone. You don't want me to drive and drink, so you drink.'
"It was just on and on and on. I did take a glass eventually, just to let up. I took a glass of champagne, but didn't want to drink it.
"I found it very odd that he had glass glasses in his cab. He claimed he just won and that's why he was celebrating and he'd just gone to a Tesco Express. But I found it odd he had everything in his cab and glass glasses.
" I didn't drink it and he actually pulled the cab over on the way home and said 'If you don't drink this, I won't take you home.'
"And the cab doors automatically lock when you're on the move, so I couldn't get out and my phone was dead.
"I said I'd drink it, and I put it to my lips, but as the cab started moving, I was splashing it on the floor so it looked like it was going down.
"Then I took my phone out and pretended I was calling someone. I was saying 'I'm on this road, I'll be home soon, get the key ready', just so that he knew that somebody else knew where I was.
"He had moved his rear-view mirror to watch me, which I had seen, so I knew he was watching me. I wanted him to know that somebody knew exactly where I was.
"When I got home, I gave him the money and he said to me, 'You've been a real waste of time this evening'. That struck me as very odd."
Alisha didn't report it at the time, but contacted police after she saw Worboys on the front page of the newspapers a year later.