Trump To Visit UK In June, Met Police Chief Reveals On LBC
9 February 2017, 08:37 | Updated: 9 February 2017, 09:44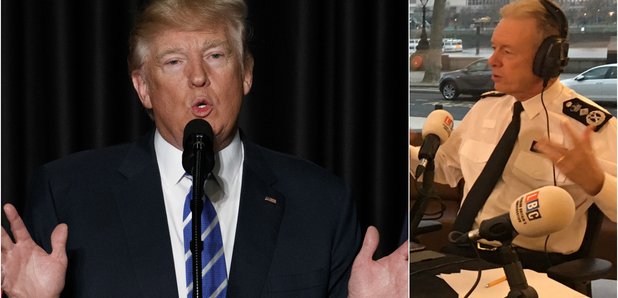 The outgoing Met Police Commissioner has told LBC he expects President Trump's state visit to take place "around June".
Sir Bernard Hogan-Howe's told us there are concerns about potentially large protests in London.
And he says it'll be an expensive operation to police the visit.
Speaking to Nick Ferrari live from the new New Scotland Yard building, he was asked how much it is going to cost to police the huge expected protest against Donald Trump's visit to the UK.
He said: "First of all, I think President Trump is coming around June, that's the plan.
"At the moment, people are concerned there will be lots of protests. There have been protests already. We've had about 20,000 people about 10 days ago at Whitehall - all very peaceful.
"I've no doubt, as the days pass, we'll make assessments on what's going to happen, so we can't definitely say there will be huge amounts of problems.
"No doubt we'll put a lot of officers out there and keep them safe and make sure everything goes well. If there is a few thousand officers, it's likely to be quite a bit of money."
A spokesperson for 10 Downing Street told LBC: "No date has been set yet for the state visit."