Caller Tells Nigel Farage She Will Kneel In Protest When Trump Visits The UK
11 October 2017, 20:19
This caller is so furious with Donald Trump visiting the UK, she is planning to organise a kneeling protest on any route he takes.
Penny called Nigel Farage after it was reported that the US President is going to make a scaled-down visit to the UK next year.
He is due to make a "working visit" which wouldn't feature the pageantry, or a stay with the Queen, that a state visit would include.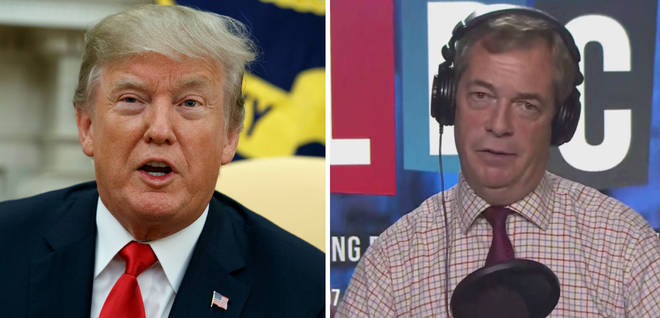 There'd been threats of protests if the US president was given the full VIP treatment.
But, that wasn't enough for Penny as she felt Trump should be given no special treatment at all.
She thundered: "What sort of a man are we inviting to come and sit and have tea and cucumber sandwiches with the Queen?
"When Donald Trump comes here I will personally wound-up a protest to kneel in any route that he's taking to go to Parliament."
Although Nigel accepted there'd be people who may not agree with Trump's policies, it was still important to invite him over.
Broadcasting from New York, Nigel said: "I do not accept the view and someone's got to come on to convince me, I don't accept the view that we shouldn't have him in this country and talk about the really important things that matter to both of us."