Nigel Farage In Disbelief Over Labour's Post-Brexit Customs Union Plan
22 February 2018, 20:19 | Updated: 22 February 2018, 20:20
Nigel Farage has attacked Emily Thornberry's suggestion that Labour would be willing to keep Britain inside a customs union post-Brexit, branding the move "deeply cynical".
During an exclusive LBC interview, the shadow foreign secretary suggested her party would be willing to give up the UK's ability to sign independent trade agreements – in return for a new EU customs union.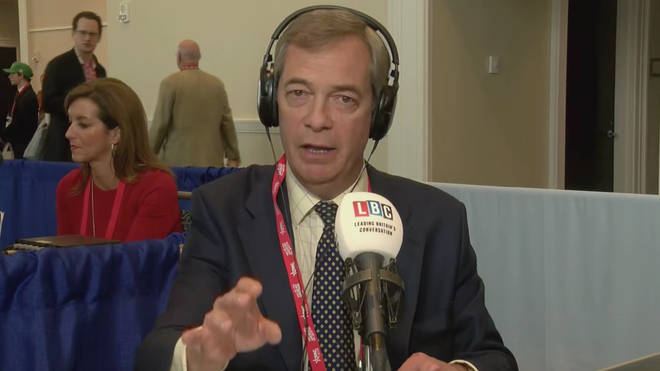 She told Iain Dale Labour wanted a deal that looked "pretty much like the current customs union".
Her remarks are likely to anger many Brexiteers, including Nigel, who gave his stinging reaction from Washington DC.
The LBC presenter said: "It's pretty clear now that if you want Brexit betrayed, vote Labour!
"Because they'll be no difference in our global relationships if Labour win the next election other than the fact we will perhaps have left the Treaty of Rome."
He continued: "This frankly is deeply cynical from Labour.
"Over four million people voted Labour in the General Election voted Brexit the year before and they are being very, very badly let down.
"Frankly they've been deceived!"