Farage: 'John McDonnell Sounds Like He's Still A Student Activist'
20 February 2017, 22:00 | Updated: 20 February 2017, 23:02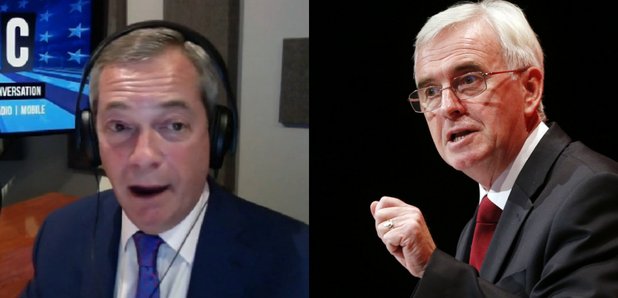 Nigel Farage criticises the Shadow Chancellor for taking part in the anti Trump protests in Parliament Square.
Nigel Farage has slammed the Shadow Chancellor John McDonnell for participating in anti-Trump protests held in Parliament Square.
Whilst the USA celebrated Presidents' Day, campaigners have taken to the streets of London to demonstrate their outrage over the planned state visit for President Trump.
Among the campaigners was Shadow Chancellor John McDonnell who told LBC that if Mr Trump is invited to speak to Parliament he will "not be attending meetings with him."
Farage accused Mr McDonnell of sounding like a "student activist."
He said: "He may have grey hair and be getting on a bit but he sounds like he's still a student activist."