Nigel Farage Launches New Attack On Remainers Trying To Block Brexit
14 June 2018, 20:30 | Updated: 14 June 2018, 20:36
The Daily Mail suggested a Brexit conspiracy is afoot after Tory rebel Dominic Grieve met staunch Remainers at the European Commission's HQ in London - but Nigel Farage went one step further.
Mr Grieve privately met Europhiles including Alastair Campbell and Lib Dem peers on Wednesday, the paper reported.
He has insisted he's not trying to thrawt Brexit, but Nigel Farage really was not convinced one bit.
In an astonishing new attack, he slammed pro-EU Brits trying to stop Britain's departure from the EU.
The LBC presenter boomed: "A conspiracy? I don't think that goes anything like far enough.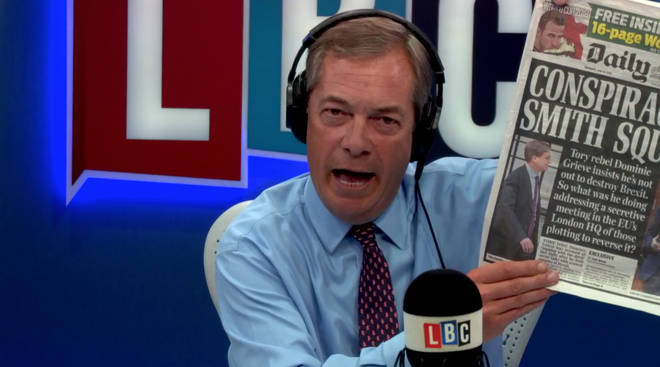 "To me they're colluding with foreign powers in Brussels - I mean this mob are on Eurostar more than I am, and I'm an MEP.
"They're off seeing Michel Barnier on a regular basis, in fact I would have thought subversion would be a better word."
And Nigel's last point was savage, as he finished: "I wondered what is the collective noun for a group of Remainers trying to overturn Brexit? Well I'm going to suggest a disgrace."
He certainly didn't hold back, and you can watch his remarks in full above.