Farage Reveals What Trump Told Him Behind Closed Doors
18 January 2017, 11:56 | Updated: 18 January 2017, 11:57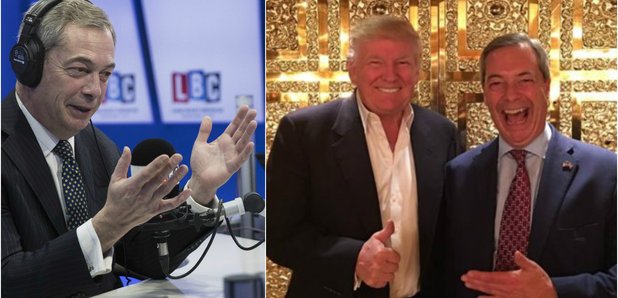 Wondering what Donald Trump told Nigel Farage behind those golden doors at Trump Tower? The newest LBC presenter reveals all...
In an edition of The Nigel Farage Show from Strasbourg, the former Ukip leader recounted what Donald Trump told him in the aftermath of his election victory.
The photo of the pair went viral and on LBC, Farage revealed what was actually said.
"I've been cautious about revealing much about what was said between Trump and myself on that day, just four days after he was elected," started Farage.
"I spent several hours inside Trump Tower and I'd been talking to his team, his advisors, his close campaign managers.
"What they said pretty much blew me away. I've not said it until now because I think conversations like that should be kept confidential."
Nigel then outlined in full what he was told by the Trump team and by the man himself and for Nigel, it sounded like great news for Britain.
His reaction: "Isn't that stunning?"
See what you make of it above.