Jacob Rees-Mogg Tells Nigel Farage His Ultimate Brexit Red Line
6 December 2017, 20:12
After declaring the DUP's Arlene Foster the "new heroine of Brexit" Jacob Rees-Mogg revealed to Nigel Farage his ultimate red line for leaving the EU.
The Conservative backbencher appeared on LBC during a turbulent week for the Brexit negotiations.
It began on Monday when the Prime Minister's hopes of clinching a draft agreement on the first phase of Brexit talks were scuppered by the DUP.
The party, who prop up the Conservative government in Westminster, failed to consent to a draft text on the Irish border.
Then, on Wednesday, David Davis admitted no impact assessments of leaving the EU on the UK economy had been carried out, despite previously signalling the opposite.
Chancellor Philip Hammond also caused a stir by claiming the UK would still pay a Brexit divorce bill even if no trade deal had been reached.
The revelations have caused rumblings among some Tory Eurosceptics as they called for Mrs May to reinstate her Brexit red lines set out earlier this year.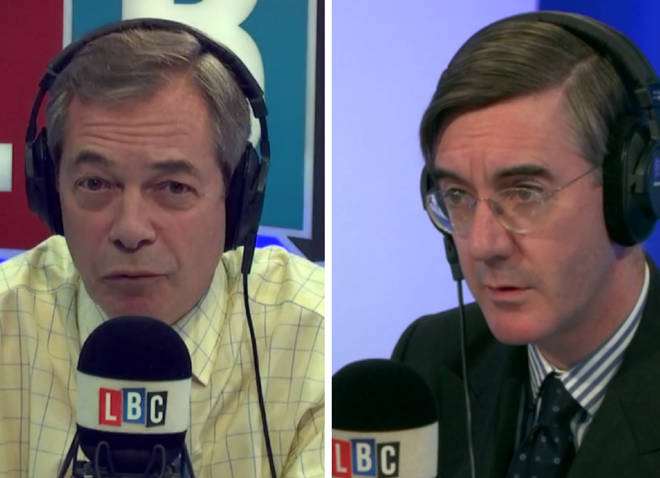 One of those was Mr Rees-Mogg, who revealed to Nigel exactly what his "reddest, of red lines" would be.
The MP for North East Somerset said: "It's always the European Court of Justice [ECJ] because it seems to me as long as we remain under the European Court of Justice we haven't left the European Union.
"If we accept, which I think would be a huge error, regulatory alignment at least if we're outside the ECJ we would then be able to change that later.
"So the reddest of red lines is the ECJ, I'm very deeply concerned about regulatory alignment because that denies us one of the great benefits of leaving but it is a secondary red line to the ECJ."
Watch the interview above.