Le Pen Tells Farage: Britain Found "Keys To Prison" With Brexit
14 March 2017, 19:33 | Updated: 15 March 2017, 07:01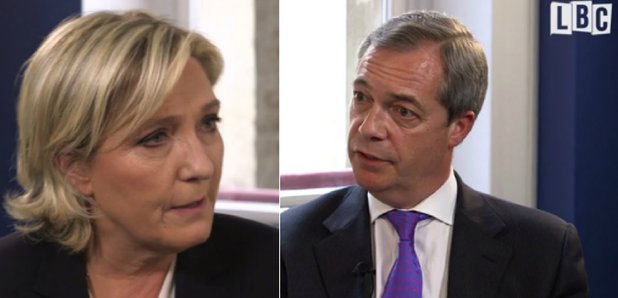 In an exclusive interview with Nigel Farage for LBC, controversial French presidential hopeful Marine Le Pen has spoken of her admiration for Britain's decision to leave the EU.
Asked by Farage about her pledge to restore France's sovereignty, Le Pen told him that Brexit "puts an end to the delirium of Mr Juncker when he said that there could be no democratic choice against European treaties.
"Great Britain has demonstrated that there is a democratic choice and I believe that the way in which parliament respects the will of the British people is quite remarkable and honourable.
"I say this quite easily because in 2005, the French said no to the draft constitution in the referendum and left and right leaders joined forces to deny the popular will.
"So this is a signal conveyed by Britain to all the peoples who wish to restore sovereignty and freedom.
"And in spite of the threats, in spite of the blackmail, the leaders are sticking to the will of the people."
In a broad-ranging interview, Le Pen also spoke to Farage about her opinion of Theresa May, Donald Trump and much more beside.
Nigel Farage Meets Marine Le Pen: The Full Interview, Wednesday, 7pm - Only On LBC