Nigel Farage Awards Labour MP Frank Field "10 Out Of 10" For Brexit Speech
14 November 2017, 20:15 | Updated: 14 November 2017, 20:39
Nigel Farage has issued Frank Field "10 out of 10" for the speech on Brexit the Labour MP made in the Commons today.
The former minister called on the Prime Minister to form a cross-party "Brexit Cabinet" in the spirit of Britain's government during the Second World War.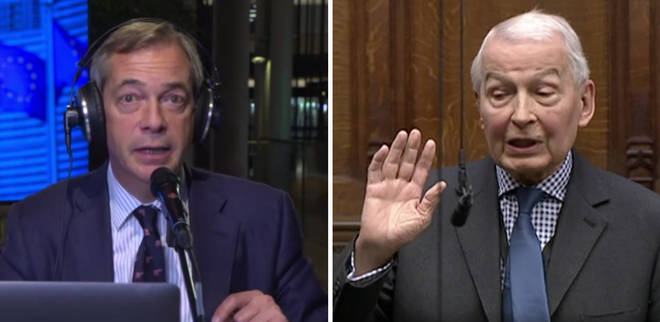 Speaking as MPs began their line-by-line scrutiny of the EU Withdrawal Bill, Frank Field urged the Prime Minister to follow the example of Winston Churchill in the 1940s.
Nigel, who was broadcasting from Strasbourg, issued strong praise to Mr Field, describing his remarks as "rather fantastic".
He lauded: "He was talking there not as a Labour MP, not as somebody who was part of a political tribe but somebody saying there is something more important than the colour of the rosette you wear of an election time.
"It is the national interest and the country has voted for Brexit and people should come together whichever party they're from and fight to make sure we get the best from it.
"I have to say Frank Field 10 out of 10, goodness me, I wish there was more of that feeling and spirit in British politics."