Nigel Farage Believes He Has A Better Use For The Cost Of HS2
18 July 2017, 20:45 | Updated: 18 July 2017, 20:47
The final route for HS2's second phase has been revealed by the Government, but Nigel Farage believes he has a better use for the billions it's going to cost.
The high-speed railway project, which will connect Birmingham to Manchester and Leeds, has been budgeted to cost the taxpayer £55.7bn.
However, some reports have suggested the amount could spiral to as much as £200bn.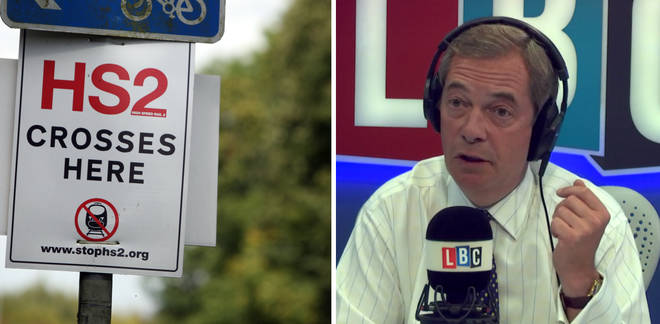 Nigel has often spoken out against the cost of HS2 and tonight on his LBC show, he laid down what that money should be spent on instead.
He said: "This is the biggest single project any British Government has undertaken since World War 2.
"It is massive and yes I'm opposed to it. Why am I opposed to it? Because for a fraction of this money we could update broadband right across rural parts of this country.
"We could help train services! It's slower now to go by train from Paddington to Penzance then it was before the first World War."
The LBC presenter went on to say it was "almost unbelievably" the Government was still prepared to go ahead with the project.
Watch his take at the top of this page.