Nigel Farage: Donald Trump Jr Has Done Nothing Wrong
11 July 2017, 20:12 | Updated: 11 July 2017, 20:23
Nigel Farage has attacked the "liberal media and leftists" over their reaction to Donald Trump Jr's emails which led to a meeting with a Russian lawyer.
The son of the US President released an email chain showing he was keen to accept "sensitive" information on Hillary Clinton.
The New York Times claims it was part of a Russian government bid to aid Donald Trump's presidential campaign.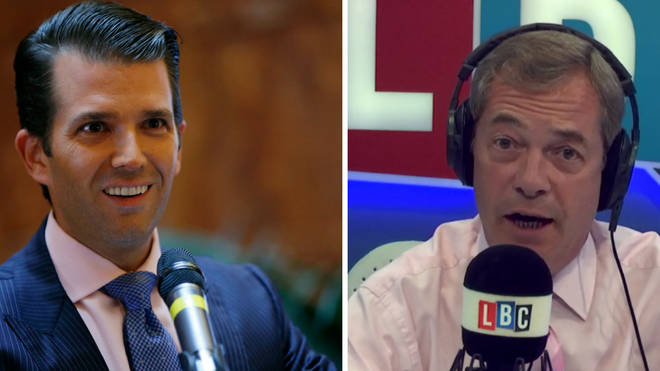 Read more: Donald Trump Jr releases Russia meeting emails amid campaign row
But, speaking on his nightly LBC show, Nigel retorted the accusations as he launched a scathing response.
He said: "I can assure you that the liberal media and the leftists will all be screaming: 'We have it! Links with the Russians'."
Nigel predicted it would be a "few days" before the story settled down, but was adamant that Donald Jr had "done nothing wrong at all".
He finished: "Certainly nothing wrong compared to some of the things Hillary was accused of during the campaign."
Watch his take in full above.