Nigel Farage "Concerned" After Trump's State Visit Is Put In Doubt
21 June 2017, 20:28 | Updated: 21 June 2017, 21:05
Nigel Farage says he is "concerned" after Donald Trump's planned state visit to the UK was not included in today's Queen Speech.
The US president was offered a prestigious visit to be Britain when Theresa May visited the White House back in January.
The invitation was accepted by Mr Trump, but there are rumours he changed his mind amid reports that large-scale protests were being planned.
Today, at the State Opening of Parliament, the Queen did not mention the US President's visit as she set out her official plans for the year.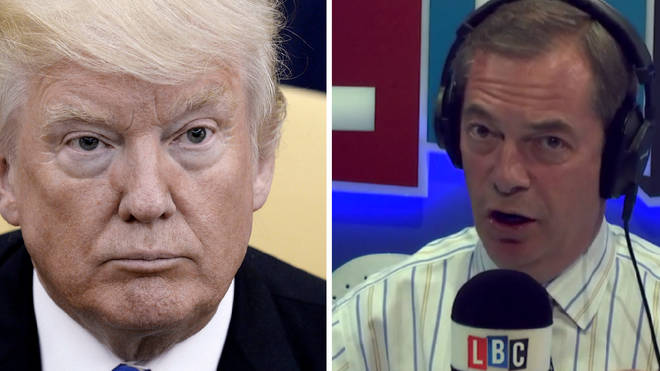 Speaking on his nightly LBC show, Nigel a worried said: "We cannot get to the stage where mob rule stops a foreign leader coming to our country.
"I was concerned that the Trump visit wasn't there, we've heard about the King and Queen of Spain are going to come, but we didn't hear anything about Donald Trump."
Nigel added the US President probably didn't want to be seen to "embarrass" the Queen if riots did break out.
Downing Street said the visit was not mentioned because a date had not yet been set.