Nigel Farage May Refuse To Pay License Fee In BBC Row Over "Blood On Hands" Report
19 September 2017, 20:36 | Updated: 20 September 2017, 10:56
Nigel Farage today escalated his grievances with the BBC by hand-delivering a letter to the broadcaster's director general, demanding an apology for a report which claimed he had "blood on his hands" over the death of a Polish man.
Speaking on his LBC show, the former Ukip leader said he would consider not paying his licence fee in the future - unless the corporation said sorry for the slur.
Earlier this month a teenage boy was sentenced to three years for the manslaughter of Arkadiusz Jozwik in Harlow.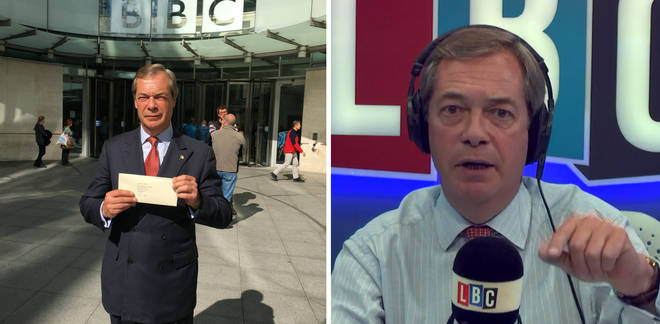 - Nigel Farage Lets Rip At The BBC During His Toughest Condemnation Yet
The 40-year-old's death in August 2016 was initially treated as a possible hate crime, but that theory was later discounted.
In a BBC broadcast which aired days after the killing, one local resident argued Nigel had contributed to his death and that he had "blood on his hands" after being pushed on the subject by journalist John Sweeney.
Nigel accused the BBC of "deliberately stirring up division and hatred in this country" and told listeners he'd even been advised to consult a defamation lawyer over the report.
In a passionate reflection, Nigel said: "I want an apology and if I don't get one then I think I'll be compelled next year to feel why should I pay the licence fee given what these people have wilfully done to me.
"No other news organisation approached that tragic death in the street and painted it out initially to be the fault of Brexit and Nigel Farage.
"The whole thing is an absolute complete and total disgrace and the BBC need to start proving to people that actually they will be an impartial sensible broadcaster."
Watch his take in full above.