Nigel Farage Is Branded A "Hypocrite" Over North Korea Stance
4 September 2017, 20:45 | Updated: 4 September 2017, 20:56
This is the moment that Nigel Farage was branded a "hypocrite" over his stance on North Korea.
It's after the outspoken presenter said the White House "was right" to threaten the rouge state with military action if it continued to antagonise its allies with further missile launches.
LBC listener George tweeted saying: "Nigel you are such a hypocrite, you lot branded Hillary [Clinton] a warmonger, but your mate's about to nuke North Korea."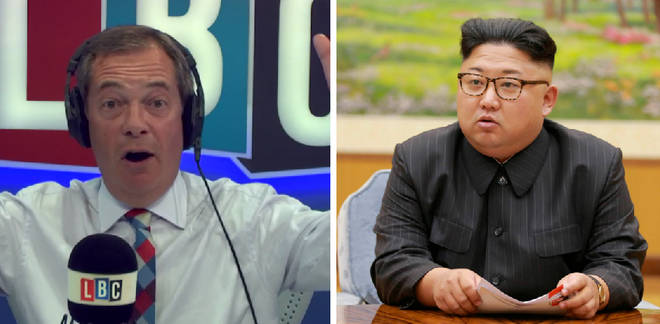 Nigel responded saying it's a fair point, but says that, "one of the reasons I did support Trump is that Britain and America got involved with too many long running military campaigns."
He continued: "This is about frankly a madman who is posing a threat to world peace."
Watch the clip in full above.