Nigel Farage Is Furious With How Charlie Gard's Parents Have Been Treated
10 July 2017, 20:47 | Updated: 10 July 2017, 20:49
Nigel Farage says Charlie Gard's parents have been treated "disgustingly" following the latest round of litigation to keep their baby alive.
Chris Gard and Connie Yates were dealt fresh hope on Friday to keep young Charlie, who suffers from a rare genetic condition, alive.
Doctors applied for a new hearing after claims "new evidence" relating to potential treatment had emerged.
Charlie's parents want to take the 11-month-old baby to the US to undergo experimental treatment.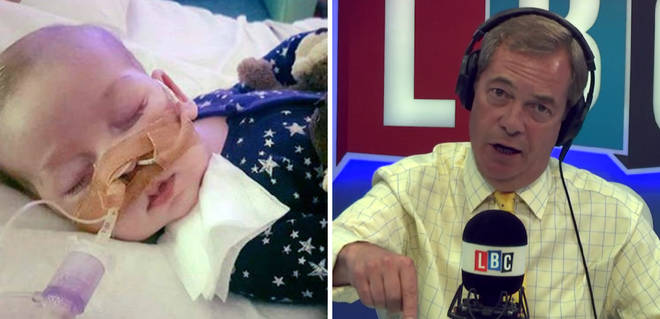 However, at the preliminary hearing at the High Court in London today, lawyers for Great Ormond Street Hospital said they were struggling to find fresh evidence about possible treatments.
Nigel was joined by family friend Alasdair Seton-Marsden during his nightly LBC show.
He told the LBC presenter that the new hearing, which has been scheduled for Thursday, had come sooner than hoped.
Offering his opinion on the latest news on the case, Nigel said: "I think what has happened today is frankly disgusting.
"The hopes were raised of these parents, all they want to do is give their little boy one last chance at a medical treatment that is available in America and not available here.
"I saw all of this a few years ago with the Ashya King case when his parents took him abroad to have a treatment that was not available in this country and the parents got arrested!"
Nigel continued: "And you know what? That boy is better and that treatment will now be on the National Health Service from next year.
"And I am absolutely disgusted by all of this."