Nigel Farage Laments Caller Who Accuses Him Of Skewing Barnier Interview
8 January 2018, 20:22 | Updated: 8 January 2018, 20:28
Nigel Farage lamented a caller who accused him of not accurately reporting what really happened during his meeting with Michel Barnier.
The outspoken LBC presenter made headlines on Monday after he secured a showdown with the EU's chief negotiator.
During the encounter, he asked three questions posed by LBC listeners, which included whether Mr Barnier understood why Britain voted to leave the EU.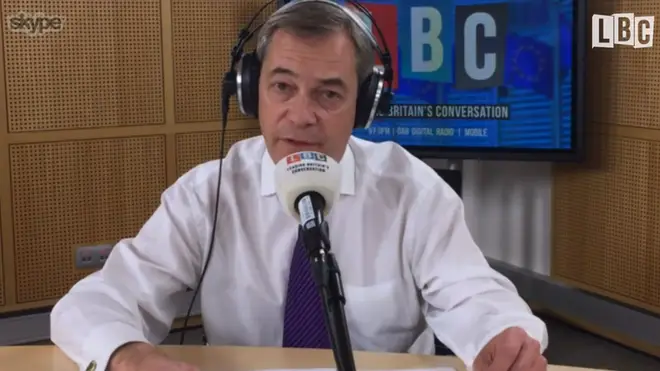 During his nightly LBC show from Brussels, Nigel revealed how the chat was civil, but said Mr Barnier was "in denial" over Brexit.
This led Ryan from Islington to get in touch, who accused the Ukip MEP of using the answers to "preach to the choir".
He added: "You've got, I presume, pretty comprehensive answers from this man in Brussels and all you've done is just spun them and shortened them.
"You've not bothered to give us any neutral representation of how the conversation went and I think it's absolutely appalling!"
Nigel, however, disagreed as he held up his notes from Monday's meeting.
The LBC presenter said: "I have 100 per cent done my best to give you a completely accurate representation of the conversation I've had with Mousier Barnier.
"I've not been rude about him at any point, he is a very courteous man, he is a man who believes in the European project.
"He believes in it like a religion!"
But, when the caller would not accept his response, Nigel added: "I'll tell you what you can do, you can contact Mr Barnier's office and ask him."