Nigel Farage: I Was The Reason Juncker Completely Lost His Temper
4 July 2017, 20:06 | Updated: 4 July 2017, 20:12
Today European Commission President Jean-Claude Juncker completely lost his temper in the European Parliament - and Nigel Farage feels he could be to blame.
Mr Juncker was furious that hardly any MEPs had turned up in Strasbourg for this morning's session reviewing the six-month presidency of Malta.
He said it was "ridiculous, totally ridiculous" as he counted only about 30 MEPs in the huge room.
Nigel was one of those who didn't attend as he missed his connecting flight from Amsterdam.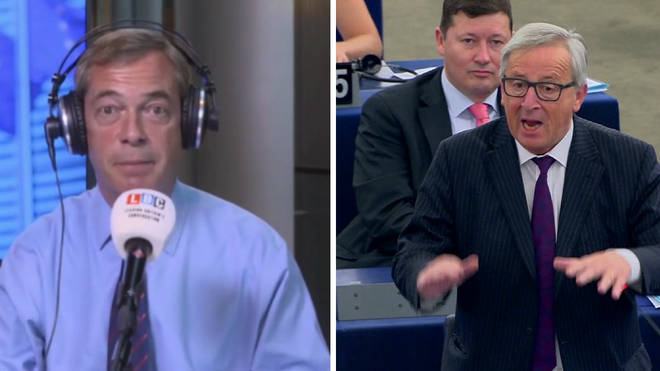 The LBC presenter, who finally made it to Strasbourg for this evening's show, explained why he felt it was him personally that led to Mr Juncker's livid outburst.
"It's all my fault because I was stuck last night in Amsterdam… I was supposed to be in that debate this morning.
"A couple of times over the last year of so when Juncker walks in he comes up and shakes my hand and says 'Nigel, thank goodness you're here, you're the only bloke in this parliament I can have a proper debate with'.
"So it could be he was really upset not to see me and that's why he lost his rag."