Nigel Farage Reveals The Questions He'll Ask Michel Barnier Today
7 January 2018, 11:33 | Updated: 8 January 2018, 06:59
Nigel Farage has revealed which three questions posed by listeners he'll ask Michel Barnier when the pair meet in Brussels tomorrow (Monday).
The showdown between the Ukip MEP and the EU's chief negotiator is set to make headlines across the country.
They'll meet inside the European Parliament at 11am on Monday.
Nigel has vowed to represent the views of the millions of Britons who voted for Brexit in the referendum.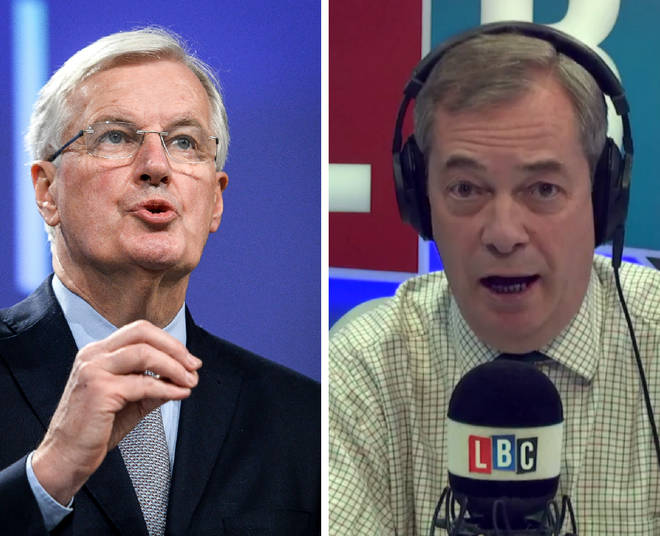 And after announcing the huge meeting on his LBC show earlier this week, he offered listeners the opportunity to ask a question.
Thousands of people put forward suggestions using the hashtag #AskBariner.
Speaking on his LBC show on Sunday, Nigel said: "My concern is the 17.4 million have not had their voices heard, I will endeavour to start a process of doing that tomorrow.
"Once I've been there there'll be others from the Leave side who go there as well and that's a very good thing."
And, these are the three listeners' questions Nigel has picked to ask Mr Barnier:
- Does Michel Barnier understand why Britain voted for Brexit? Paul William-Smith
- What happens to the EU's economy if there's no trade deal with Britain? Sergio
- How does Michel Barnier view mass immigration into the EU coming across the Mediterranean and elsewhere? James
You can hear how that meeting unfolds throughout Monday on LBC.