Nigel Farage: My Simple Response To The Irish Border Question
4 December 2017, 20:11 | Updated: 15 October 2018, 11:03
After he slammed the government's handling of the Brexit talks, Nigel Farage was challenged to come up with a solution to the Irish border question - and this was his response.
On Monday talks between the UK and the EU broke down after the DUP refused to accept concession on the Irish border, according to reports.
Theresa May says talks will restart before the end of the week in a bid to reach an agreement to move to the next stage of Brexit talks.
It's believed both sides were poised to agree that Northern Ireland could remain in the EU's customs union and single market in all but name.
But the leader of the DUP, Arlene Foster, said her party "will not accept any form of regulatory divergence" that seperate the North from the rest of the UK.
Giving his take on the matter, Nigel accused the Prime Minister of almost leading the UK to the "greatest consequential crisis we've ever seen in this country".
Which led Dr Ralph to text LBC and ask the Ukip MEP: "Nigel before you start your sermon on the microphone please tell the whole country what your solution to the Irish border is."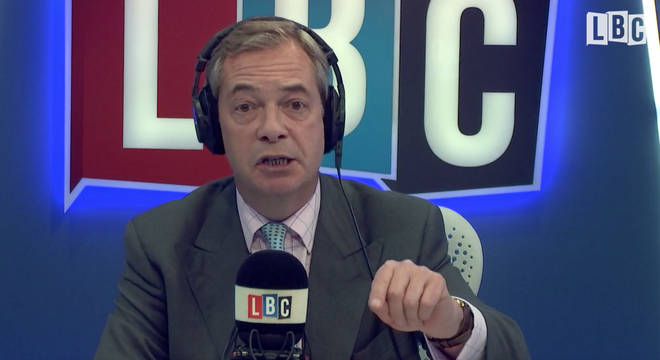 To which Nigel responded: "I will tell you quite simply; what the UK government should have done is to say we are unconditionally offering a free trade deal to continue with Ireland and we're going to the WTO who will back us up and support that because that's their job is to promote ease of trade.
"We'll go to Brussels and say because of political sensitivity, and after all it's you in Brussels who keep saying you don't want the Good Friday Agreement compromised, we ask you in Brussels to make an exception for Ireland, whatever you decide to do with United Kingdom for the rest of the EU."
He finished: "Put the onus back on them to do the right thing but hey you know what that would take leadership we haven't got any of that."