Nigel Farage Slams "Unpleasant And Violent" Anti-Fascist Activists
16 August 2017, 20:29 | Updated: 22 August 2017, 09:53
Nigel Farage branded anti-fascist protesters "violent and unpleasant" as he hit back at the latest condemnation of Donald Trump's response to the Charlottesville rally.
During a press conference on Tuesday, the US President once again blamed both sides for the violent unrest during the Unite the Right rally.
The right-wing march was in protest against the removal of a statue of General Robert E. Lee, the Confederate hero.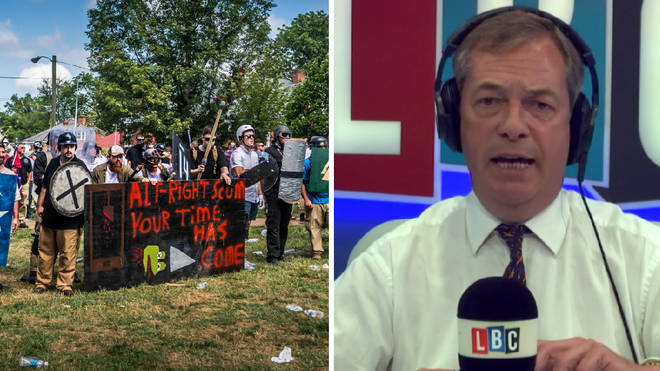 However, violence broke out when the rally was confronted anti-fascist protesters.
Speaking on his nightly LBC show, Nigel made clear he was not supporting either side - but he felt criticism towards Trump was unfair.
He said: "The idea that an organisation that calls itself anti-fascist, against fascism, professes itself to be for love and hope and optimism in my personal experience over the course of the last few years, many people in those groups I have personally seen are some of the most unpleasant and violent people.
"There is a very hard-left intolerant fascism that occurs on the Left as well as those on issues of race or religion on the far-right."
Nigel continued: "I was shocked to see people in 21st century America using Nazi salutes, I'm not supporting these people.
"But actually crime is a crime, violence is violence by whoever it's committed.
"Trump is coming in for total condemnation by the liberal media in the United States of America and by virtually everybody in this country for saying something that I think is right."