Nigel Farage Tells Ukip Leader Henry Bolton His Actions Are The "Height Of Stupidity"
22 January 2018, 21:04
Former Ukip leader Nigel Farage spoke exclusively to current Ukip leader Henry Bolton about his decision to remain in his post, the state of the party and those texts from his former girlfriend.
After Henry Bolton refused to stand down as leader of Ukip the embattled politician spoke exclusively to Nigel Farage about his future in the party.

Nigel started by asking whether Henry agreed with a number of his Ukip colleagues who believed he had brought "the party into disrepute." Henry Bolton said he didn't, saying that the only charge levelled against him was that he had left his wife. 

Bolton went on to say that his former girlfriend Jo Marney didn't deserve a second chance after she wrote racist comments about Meghan Markle. He commended his former girlfriend for resigning in order to allow the party to move on. Bolton also reminded Nigel that he had roundly criticised his ex-girlfriend's comments.

He went on to say that he believed he had proof that messages from his wife "had been doctored." Asked by Nigel to clarify what he meant, Henry said that "he had proof that at least one was" and that the source of one of those messages would never have released them if they would have caused the party embarrassment.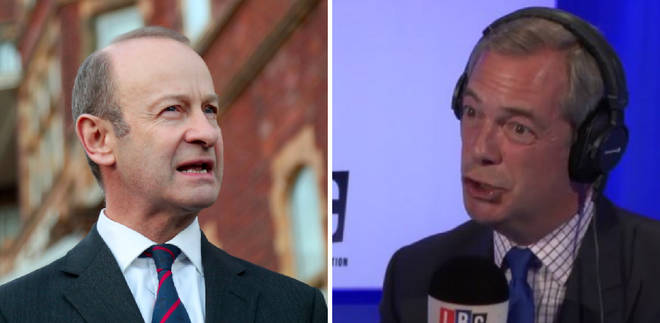 Farage moved on to the confusion about the status of his relationship with Jo Marney, highlighting that after Bolton had said that he had ended the relationship he was spotted in Central London holding hands with her. Nigel said that his actions were "the height of stupidity", something Bolton said he understood.
Pressed to answer whether the relationship was on or off Henry admitted that he was "still in contact" with Marney but the "romantic side of the relationship is off, certainly at the moment." The disgraced UKIP leader stated that she only came to his house to pick up her bags. 
Henry defended his decision to stay on as leader saying "the party can go through a national leadership contest again both financially and politically." He went on to say that the NEC has allowed factionalisation to emerge and branches to break down within UKIP.  He argued that his "private life should be a sideshow to what we're actually about which is an independent post-Brexit Britain." 
Farage asked Bolton whether "pushing the party on to the agony of an EGM" is perhaps "just a little bit selfish." He said he was doing it for the interests "of the nation and the party." 
Nigel asked how Henry was coping living through a media storm. Bolton joked that "the occasion whiskey helps." He admitted the job had been a "steep learning curve, but in some ways I'm enjoying navigating through this all."
Listen to The Nigel Farage Show Monday - Thursday from 7 pm on LBC.