Nigel Farage: The Most Worrying Issue From The Charlie Gard Case
24 July 2017, 20:04 | Updated: 24 July 2017, 20:17
On the day Charlie Gard's parents ended their legal battle, Nigel Farage has pointed out the most concerning issue to come from the case.
After a long fight to take their terminally ill 11-month-old baby to the US for experimental treatment, Chris Gard and Connie Yates withdrew their court application.
In an emotional statement outside High Court, they said Charlie could have been a "normal, healthy boy" if their attempts to access experimental therapy had not been blocked by the courts.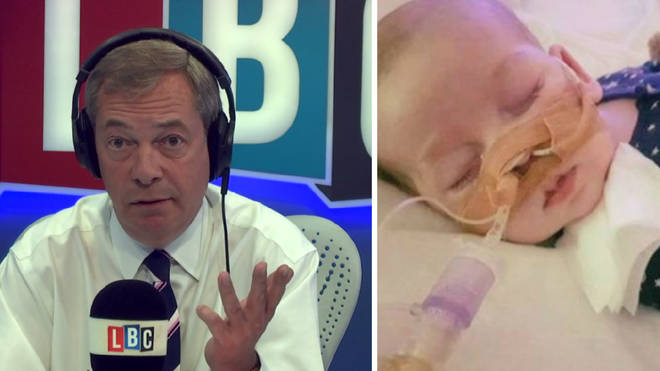 They defended their decision to fight for treatment, and said their case had been based on the expert opinions of world-renowned specialists in mitochondrial disease.
Great Ormond Street had argued the experimental therapy would not have helped improve Charlie's condition, and said the baby's life support treatment should end - allowing him to die peacefully and with dignity.
This led Nigel, who has been following the case closely on his LBC show, to point out the most concerning issue to come from this tragic case.
"Should we live in a society where parents, providing they're of sound mind, can make the ultimate choice about their children's future," Nigel said.
"Or does the state have that power? What this case has shown, sadly, is the state has that power. I don't like it. I want this changed."
He continued: "The medical profession, for all the good work they do, they're not always right.
"I've seen instances in my life where I was severely misdiagnosed 30 years ago - doctors are not always right!"