Nigel Farage: Time for PM To Demand Meeting With Putin
11 March 2018, 16:05 | Updated: 15 March 2018, 14:57
Nigel Farage has said it is time for the Prime Minister to "demand a meeting with Putin" and ask for explanations.
He was speaking on his LBC show following news that hundreds of people have been told to wash their possessions following the discovery of traces of a nerve agent in Salisbury.
Health officials insist the risk to the public is still "very low".
He said he had previously spoken about Theresa May's "lack of decisive leadership".
Nigel Farage said: "I think now what she should do is to demand a meeting with Russian President Vladimir Putin and to go and ask for some explanations.
"I've always said we should try to talk to the Russians, we should try to improve our relationship, if possible."
He added that "at the moment we have to be fair" and that there was no proof as to the source of the nerve agent.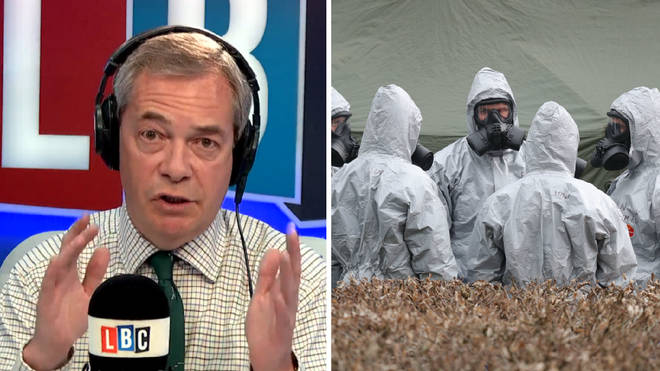 Public Health England (PHE) issued "precautionary advice" a week after former Russian spy Sergei Skripal and his daughter Yulia were found slumped on a bench in the Wiltshire city.
Mr Skripal, 66, and his daughter, 33, remain in a critical but stable condition in hospital.
Detective Sergeant Nick Bailey - who was taken to hospital after falling seriously ill when he responded to the emergency - is conscious and in a serious but stable condition.