Nigel Farage: Trump's Stance On North Korea Shows He Is No Isolationist
9 August 2017, 20:40 | Updated: 9 August 2017, 20:44
When Donald Trump became President he was accused of being an isolationist with his "America first" policies - but Nigel Farage says his stance on North Korea shows quite the opposite.
The LBC presenter was broadcasting live from Washington DC in the wake of escalating tensions between the US and Pyongyang.
Trump warned North Korea would face "fire and fury" if it persisted in threatening the US.
The strong remark received almost instant retaliation from the rouge nation who said it was considering a strategy to fire missiles at the US Pacific island of Guam.
Giving his assessment of the situation during his nightly LBC show, Nigel said Trump was proving that he was not withdrawing America from the world.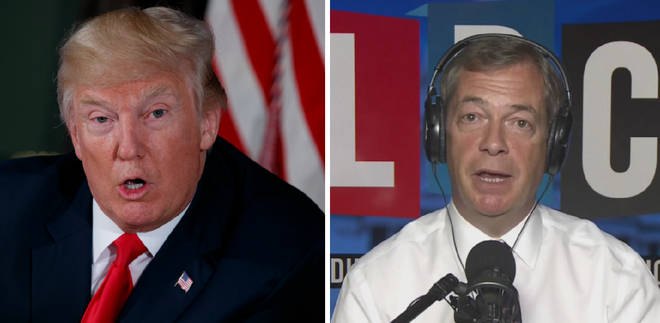 "Actually what you've seen over North Korea is quite the reverse of that," he said.
"Trump is not doing this in isolation, in fact far from it, what he is trying to do is to get an international effort to stop this 'Mad Kim' from escalating this nuclear threat further.
"We have heard over the course of this weekend the UN Security Council voting unanimously to impose strict new sanctions on Pyongyang - and that includes China and Russia."
Nigel finished: "So I don't think he's about to press any buttons soon."
Meanwhile, in an exclusive LBC interview, Trump's senior adviser Stephen Miller revealed the reason behind the President's threats to North Korea.
Watch that interview here.