Nigel Farage's Analysis Of Theresa May On Brexit Is Absolutely Brutal
10 October 2017, 19:58 | Updated: 10 October 2017, 20:22
Nigel Farage says Theresa May is not the right person to lead Britain out of the EU as he launched into an absolutely devastating analysis of the PM.
The Prime Minister joined LBC for an exclusive phone-in on Tuesday afternoon.
During the interview she was asked if she had now changed her mind on Brexit, after campaigning to Remain during last year's referendum.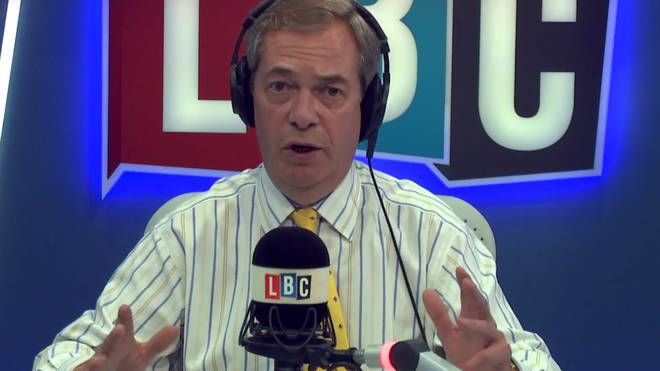 - Theresa May Refuses To Say If She'd Vote For Brexit In New Referendum
However, Mrs May refused to say whether or not she would back Leave in the event of another vote - a moment that left Nigel Farage fuming.
During his explosive rant, the LBC presenter raged: "This answer today explains to me why we've had diver and delay, explains the lack of leadership, she's viewing it as just another political issue and doing her best to placate both wings of her party.
"Actually she's not really pleasing anybody. Brexit 16 months on from the vote is frankly, completely and utterly stalled.
"I'm sorry but this is not the person to lead this country into big historic change. Sometimes in life it's not what you say that reveals who you are, it's what you don't say."
Watch Nigel Farage's scathing take above.